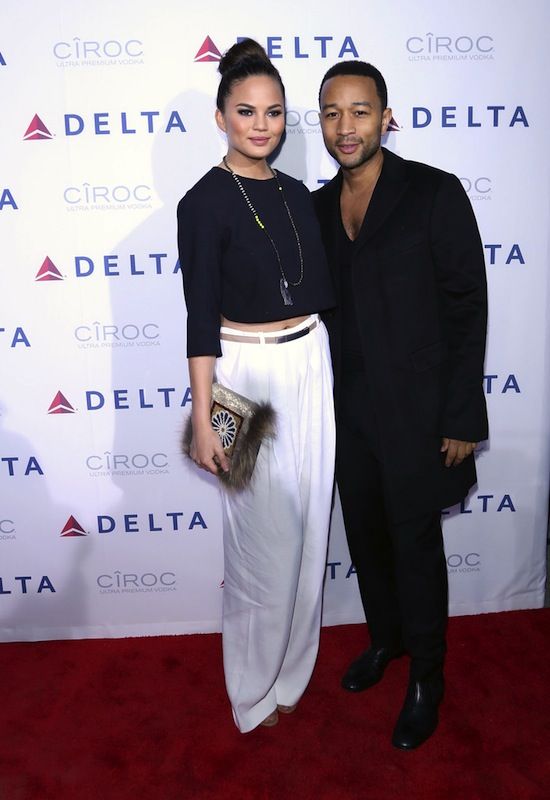 Sports Illustrated model Chrissy Teigen had a few choice words for the NY Post after they accused her fiance John Legend of cheating! Find out what the feisty swimwear model had to say inside and what how she wants to get payback...
Longtime couple Chrissy Teigen and John Legend may appear to be a happily engaged duo, but the NY Post has accused the R&B crooner of cheating on the swimwear model in a really sloppy way.
According to a Page Six exclusive, John spent Friday night partying with a group of close pals at the NY hotspot Acme before a steamy hookup session around 1am....in the restaurant's bathroom!
Apparently John was seen having dinner with guy friends and two females:
A spy said the suave performer was partying with male pals who struck up a conversation with "two pretty girls in their late 20s, one blond and one brunette" at the next table. After "chatting all night," the witness said the blonde got up to go to the bathroom after 1 a.m., and "John followed her."
A source said, "[John] was walking in, and just grabbed her arm and brought her with him. They were in there a couple minutes."   But reportedly, the hookup (with a chick who dined at the next table) was short lived as "...The same girl saw another hot guy and started talking to him."  
After reading the morning paper, Chrissy, who calls herself a "de-motivational speaker" on her Twitter page, had a few choice words for the rag.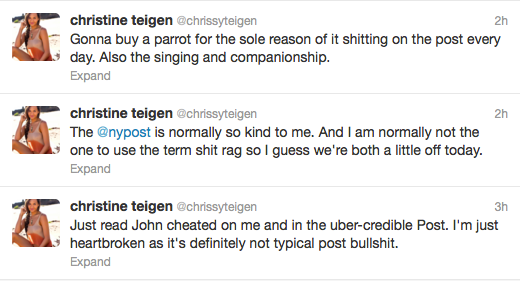 A few hours later, the "heartbroken" model backtracked a little and posted,

Chrissy's followers may recall that on Monday, she tweeted, 'I honestly think so many more of us would get along if you didn't want to [bleep] my fiancé,'
 
Hmm....is seems like Chrissy knows that John is a hot commodity to certain chicks and blames the other women for anything that possibly went down, but she sure isn't letting the rumor affect her relationship.  She even joined him for an interview this morning as he guest co-hosted on the Steve Harvey's radio show.  John tweeted,

Now....it's interesting that John has not commented on the rumor, but I'm sure he had some explaining to do to Chrissy.  We doubt this little story will put a bump in their wedding plans, but it is interesting she still hasn't picked a dress!