NeNe Leakes (shown above on the set) wasn't too happy when she found out that actor Brian White had called her a racial stereotype" during a recent rant.  The "RHOA" star took to Twitter to defend herself and said maybe he's a little jealous that's she booking acting gigs!  See her response inside....
During Brian White's pissy rant about racial stereotypes on reality TV, he made a few negative comments about "RHOA" and "Glee" star NeNe Leakes.....and she's snapping back.
She defended "RHOA" saying they've never had a fist fight on the show and then added that "actors" seem to get upset with reality stars when they start booking acting gigs.  She just tweeted: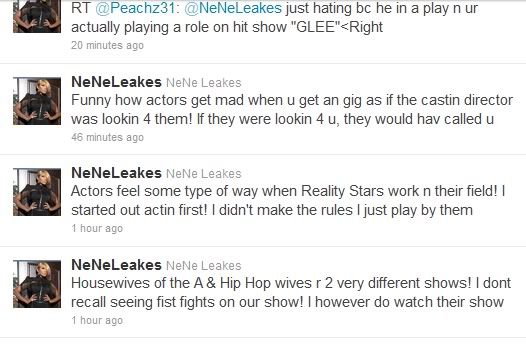 NeNe (who first appeared on "Glee" on Jan 17th) will make her second appearance on the hit tv show on Feb. 7th.  She tweeted,
Next Tuesday nite Feb 7th I'm back on Glee! Now u don't wanna miss Coach Roz go head 2 head wit Sue Sylvester! This gone b good! #hellokitty
And it doesn't stop there...Ms. Leakes will be co-hosting "The Talk" next Wed and Thurs.
NeNe's about cashing her checks I see...