Tons of celebs came out for T.I.'s big AKOO Fashion Show last night in Atlanta.  And Mr. Harris made it a family affair by having his sons, Domani, Messiah, & King walk the runway and his step-daughter, Zonnique, perform for the occasion.
Pics of the celeb-filled runway show inside...
Last night at Reign nightclub in Atlanta, rapper T.I. hosted the Akoo (his clothing line) Fashion Show, sponsored by ReeBok and Grey Goose.  Comedian Kevin Hart and Kenny Burns were the hosts of the evening.  And celebs filled the place for the show, featuring none other than T.I. and Tiny's own sons as three of the models.
Tiny was there front and center to support her man of course.  We still don't spy a baby bump, but she rocked a cream and silver mini skirt and loose blouse for the occasion.  Tiny's homie/hairstylist Shaneika was there (right) and T.I.'s mom Violeta Morgan was also there to support (left).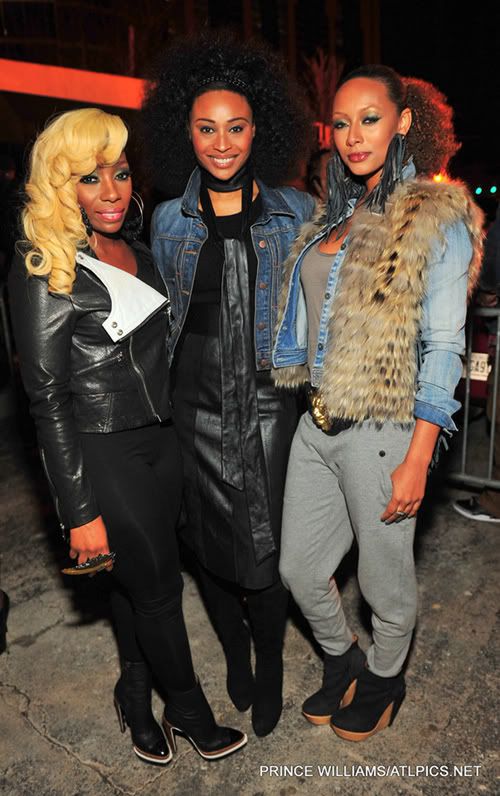 "ATL Housewife" Cynthia Bailey, Kalenna, and Keri Hilson were all there front row. 
Can't decide if I'm loving Keri's look--it's a while lot going on.
By the way, Ms. Keri sang Happy Birthday to Messiah as he was celebrating turning 11.
Diddy's baby mama Sarah Chapman was there--sans daughter Chance.
And she was spotted rocking THIS fat rock on her ring finger.  I wonder who gifted that one.  Engaged much Sarah?  Hmmm....
Diddy's other baby mama Kim Porter was there before hitting up her own 3 Brown Girls eventearlier in the night.  Great look for her.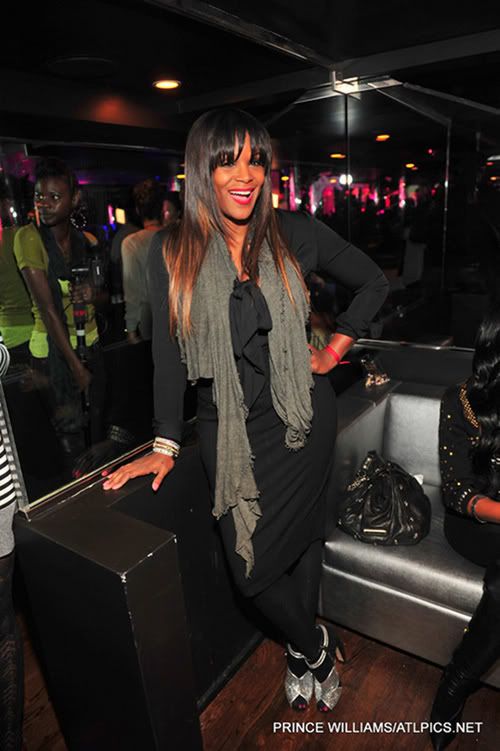 Tameka Raymond was also in attendance in a cute look for her.
TIP had his 14-year-old stepdaughter Zonnique (in blue) and her group the OMG Girlz perform: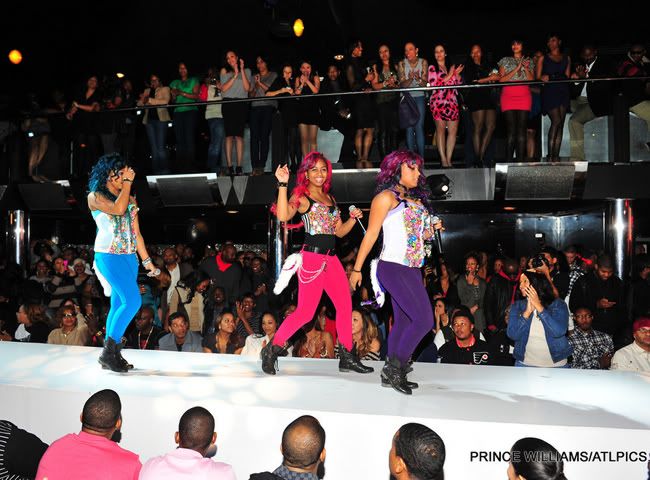 And the girls watched the show from the front row afterwards:
Alrighty then.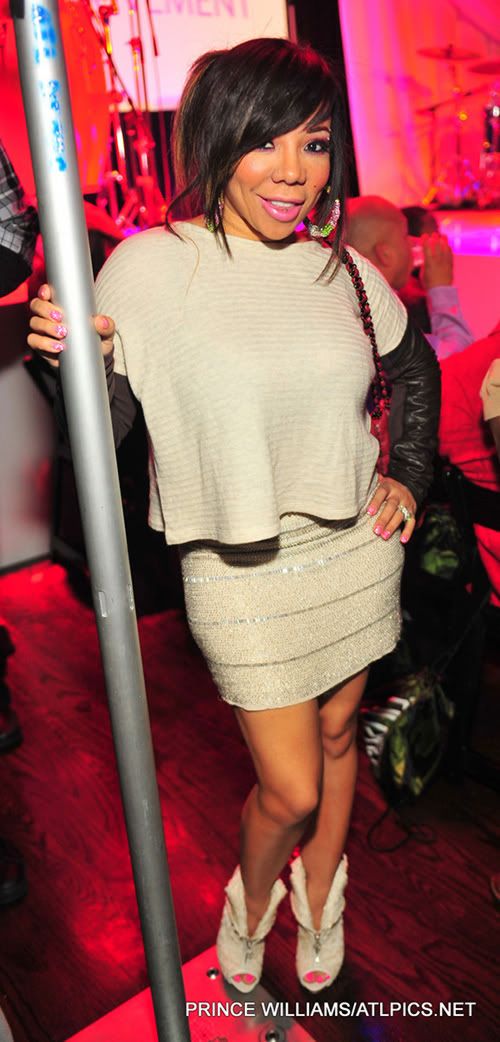 Interesting look for Tiny. Not in a great way either.
Nice rock though.  She kicked it front row with her mother-in-law Violeta.
It's unclear if the twosome will show any footage from the show on an upcoming episode of their VH1 reality show "T.I & Tiny: The Family Hustle."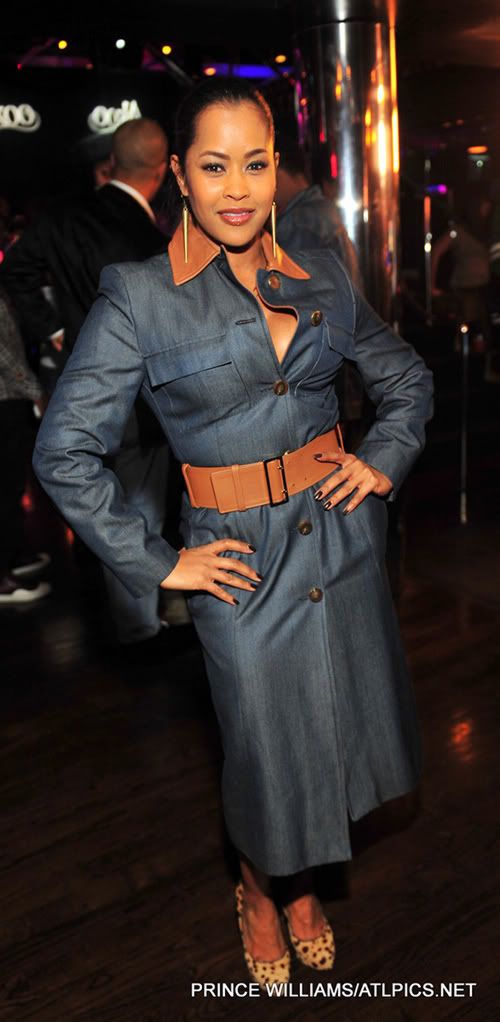 Former now divorced "ATL Housewife" Lisa Wu came out to support in this denim shirt dress.  Is it just me or is something different about the face....
Oh hey Eddie Winslow!  Darius McCrary was spotted at the afterparty all over the female he's pictured with above.  We assume (at least we hope) it's his new boo.
Messaih, Domani, and King making their runway debut: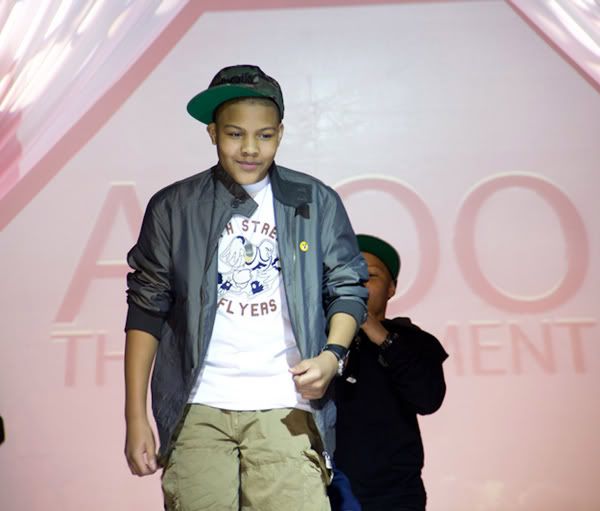 Too cute!
And little Major was intent on joining his brothers it looks like, until grandma shut that down:
Ha!
TIP and his sons (left-right) Messiah, King, and Domani all chilled out post-show:
TIP's got some strong genes.  Cute little boys.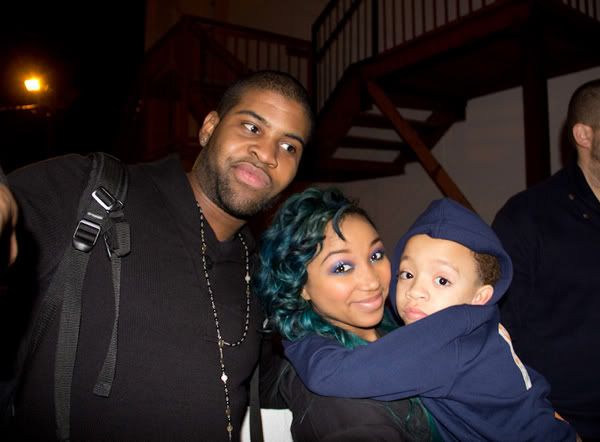 Awww.
Kevin Hart and Kenny Burns kept the crowd laughing.
Looks like fun times were had by all.
Photogs: Prince Williams/Atlpics.net; Jerome Pearson
BONUS: Check out the OMG Girlz's brand new video for "Gucci This":