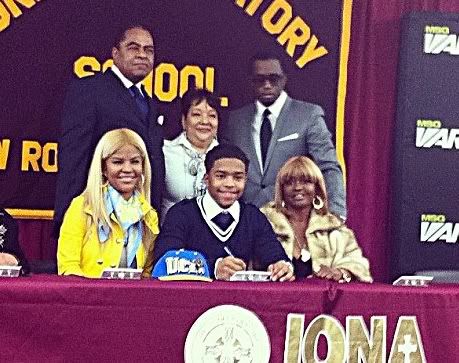 Diddy and Misa Hylton were proud parents yesterday as their son Justin Dior Combs signed his letter of intent to play football for UCLA on a full scholarship.  Pics and deets inside...
Justin Dior Combs, the son of Diddy and Misa Hylton signed his UCLA letter of intent yesterday (National Signing Day).  And his grandma Janice was there to cheer him on as well.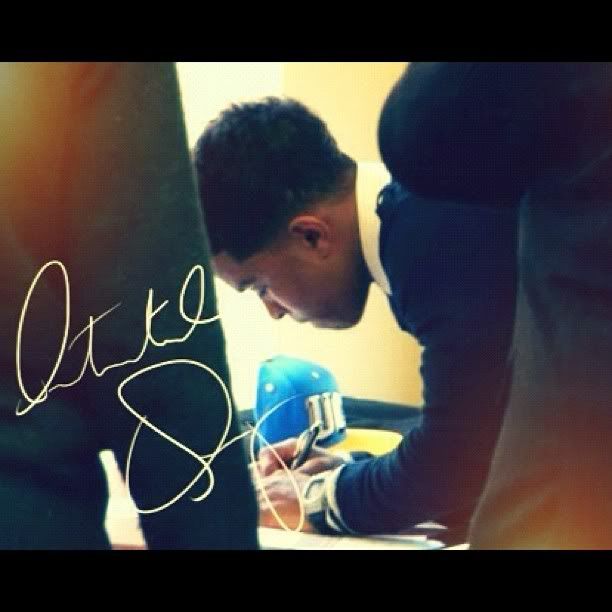 The talented youngin' will attended the school on a full scholarship for football (worth about $54,000 a year).
And in accepting the full Division 1 scholarship to play at UCLA, he turned down offers from Wyoming, Virginia and Illinois.
Speaking about UCLA, Justin said,
'It was love at first sight.  When I stepped on the campus, I knew I was going to be a player there. I knew I just had to get there.'
And the soon-to-be-freshman cutie has been putting in a lot of practice to prep for his start on June 24, even working out with Jets star Darrelle Revis.  He said, "It's going to be surreal at first but then at the end of the day you've got to go to work and you've got to get what's yours and show why you've been working hard."

Earlier in the day, his mom Misa tweeted, Today is going to be a great day!
Meanwhile, Diddy said, 'This is everything a father could want for his son, for him to excel at what he loves to do and is truly passionate about.  Justin is a shining example of what hard work, determination and a strong mentality can achieve. I am honored to call him my son and am happy that he is fulfilling his dream." 
He later tweeted about his other "son" Quincy's upcoming video shoot saying, Atten LA ladies my son Quincy is looking for YOU RT @Quincy: Shooting my video "STAY AWHILE" in LA 2/6
Congrats to Justin and the family!