Lil' Wayne has lost his Mountain Dew endorsement following criticism over his "Emmitt Till" lyric.  Find out what PepsiCo said inside and hear what Mary Mary told EBONY Magazine about Erica's solo project and the infidelity that rocked Tina's marriage.  Read more inside...
It seems like the good folks at Mountain Dew are paying closer attention to the rappers they associate their brand with, now that they've also dropped Lil Wayne from the roster.  A few days ago, we told you about the embarassing ad the company yanked featuring Tyler, The Creator and now they've bowed to public pressure and fired Lil' Wayne too.
Lil' Wayne, who has been appearing in Mountain Dew ads since 2012, infuriated the family of Emmitt Till, after his "Karate Chop" song included the lyric, "Pop a lot of pain pills, 'bout to put rims on my skateboard wheels ... beat that p***y up like Emmett Till."
Though he sent a letter apologizing to the family, it was rejected by the descendants and along with mounting criticism from the public, Pepsi Co announced late Friday that Weezy's "offensive reference to a revered civil rights icon does not reflect the values of our brand."  These rappers gonna learn today...

Though the company did not provide any specifics, the departure was confirmed by Sarah Cunningham, a publicist for Lil Wayne who covered up by saying the split was due to "creative differences... That's about all I can tell you at this time."
For those who may not recall the specifics of the legendary Mississippi murder, Emmitt Till was a 14-year-old Black child who was beaten and disfigured beyond identification for allegedly flirting with a white woman in 1955.  And this is how Weezy described his sexual prowess.
And on magazine racks....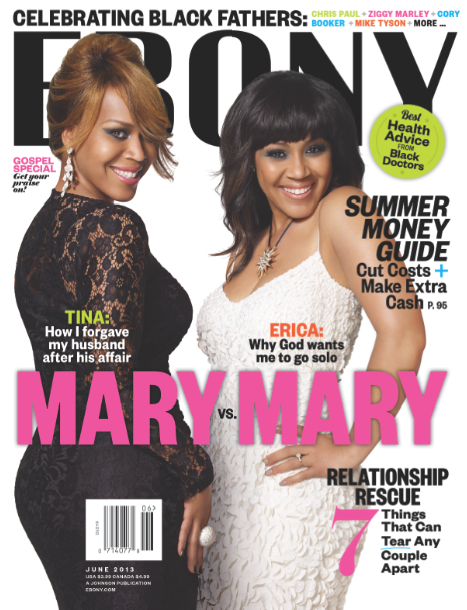 Mary Mary duo (Tina& Erica Campbell) cover EBONY Magazine's June 2103 issue, which celebrates Black Music month.  Inside the shockingly candid interview, the reality tv stars open up about infidelity and Erica's decision to go solo. 
Here are the highlights:
Tina on discovering her husband was having an affair:
"Once I became aware [of the affair], I initially wanted to kill my husband…I was considering adjusting the will, the living trust and all that kind of stuff. I did physically try to stab him. Several times…I never got to the point of physical harm, not really, but my words…My words hurt. "

Erica on husband going into the ministry:
"I feel like my husband has been called to minister…Now I said, 'Lord, when I first started dating this guy he worked for Death Row Records, but he was from the church. That was a perfect combination for me: a little street, a little church.'"
 
Damn Tina!  Not stab his ass AND change the will. 
And in celebration of Father's Day, EBONY spotlights Ziggy Marley, Chris Paul, Mike Tyson Cory Booker and other celebs who express gratitude and appreciation for what their fathers taught them.
The "Mary Mary" issue of EBONY hits magazine stands on May 7th.