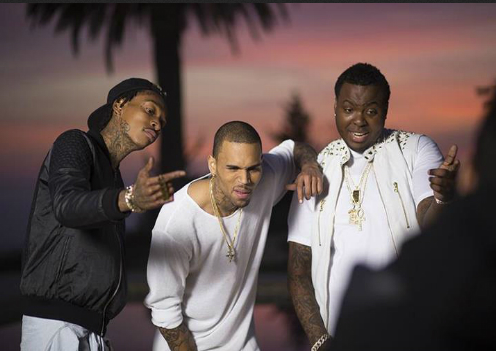 Sean Kingston has released the visual for his "Beat It" single featuring his boys Chris Brown and Wiz Khalifa.  Watch the clip inside...
Sean Kingston has revealed the Colin Tilley-drected visual for "Beat It" video featuring Chris Brown and Wiz Khalifa.  Kicking off Sean's Back 2 Life disc (due later this year), the video was shot at a mansion in Malibu and features the typical mix fast cars, swiming pools and flashy clothes.  And of course....there's a ton of T&A to go around.
Watch the video for "Beat It" here:
BONUS:
Despite his ongoing "feud" with Drake, Chris Brown didn't seem "insecure" at a party he hosted at NY hotspot Stage 48 earlier this month.  The DJ played Drake's "Started From The Bottom" and once the beat dropped, Chris partied along to the song...and liked it.  Maybe they'll put their differences aside and work together one day.  We're hoping....