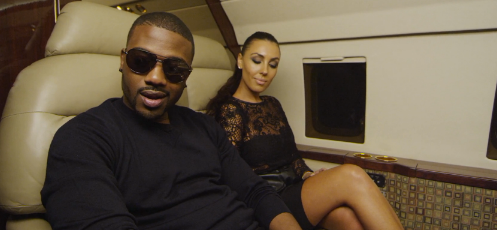 The video for Ray J's hit single "I Hit It First" has arrived and as expected, it features a Kim Kardashian doppleganger.  See the visual inside...
Though he claimed the song "I Hit It FIrst" was not about his ex-girlfirend and "co-star" Kim Kardashian, viewers of the J.R. Saint-directed clip may have a hard time seeing a difference between the reality star and her video vixen doppleganger. 
Ray-J constantly told media the song isn't necessarily about her and we would be "surprised" to see who he puts in the video.  But um, we're so not surprised.  Everybody and their mama predicted this.
The funny vid seemingly documents the life of Kim K. including references to Kanye West (there's a shot of Insterstate 94 "West" in Chicago) and Kris Humphries (a look-alike who plays basketball). 
After a G-rated romp in a bedroom that looks very similar to the one we saw in their X-rated video (and we know you saw that ish!), the video ends with Ray J watching his "girlfriend" go on to paparazzi stardom.  Not sure who else this could be about but....OK Ray-J.
Watch the video below: