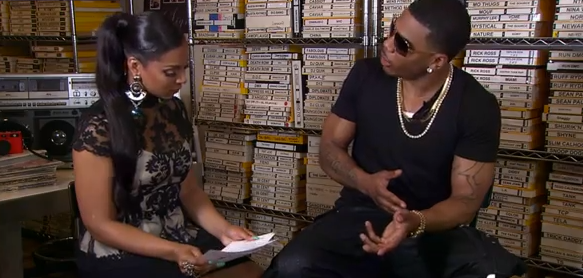 Ashanti sat down with her ex-boyfriend Nelly to talk about his relationship dealbreakers, working with Chris Brown, and the type of girl he likes.  And surprisingly...the ex-couple were so warm towards one another it's hard to imagine why they ever split!  Watch the interview inside... 
In her new capacity as the host of "FUSE News", Ashanti landed her ex-boyfriend Nelly for one of her first major interviews...and the segment went over exceptionally well!  As the ex-couple dished about Nelly's career and the state of hip hop, they laughed and giggled and even talked about the type of woman Nelly is looking for.  
Though that might have proved awkward for most former lovers, the pair laughed through it and Nelly revealed that he liked a nice "pair of thighs" while looking right at hers!  Here are the highlights:
On the type of girl he likes and dealbreakers:

Bad breath is a dealbreaker.  I don't want someone who lacks the confidence in who they are. I think we would hit the wall. And a nice set of thighs always helps!

On the state of hip hop:

It's not my position to judge whether it's in a bad situation. Obviously hip hop is created for the youth by the youth, and it has to make the same mistakes we made.  I think it's on a braoder scale as far as globally.  It's the most dominating music around the world.

On how he's evolved since Country Grammar:

I've been through so much in my personal life, I'm just here to celebrate I ain't where I could be.  

On "Merry Go Round" with Chris Brown:

I was working with Da Internz and we called Chris up.  At this time, he needs to know who's riding with him or not.
Watch Ashanti ask Nelly about the type of girl he likes at (3:46):