Lil' Scrappy was jailed this morning for refusing to re-take a suspect pee-test back in March!  Get the deets on the recent lock-up inside and see K. Michelle's latest video, "I Just Wanna."
It was a scene made for reality tv (and yes VH1 was there!) as rapper Lil' Scrappy walked alongside his somber baby mama Erica Dixon and dramatic mother Mama Dee (holding a "FREE SCRAPPY" tee) to turn himself in for a parole violation in Atlanta, GA this morning.
We knew something "suspicious" was going on when Lil' Scrappy failed to appear at the NYC press party for "LAHH ATL" last week.  You'll recall, we told you previously that any wages Lil' Scrappy makes will be garnished (because he owes a bunch of folk) and now the reality star won't even be able to promote the show (or his music) because he's locked up!
He turned himself in this morning based on a parole violation from March.  "The Prince of The South" was accused of tampering with his required urine sample after the pee he submitted for a routine drug test was cold to the touch.  When he refused to provide a "fresh" sample, a warrant was issued for his arrest.
Fast forward to this morning....he turned himself in...and we'll get to see it all this season.
It all played out like a framatic ass unnecessary BLACKbuster tv movie....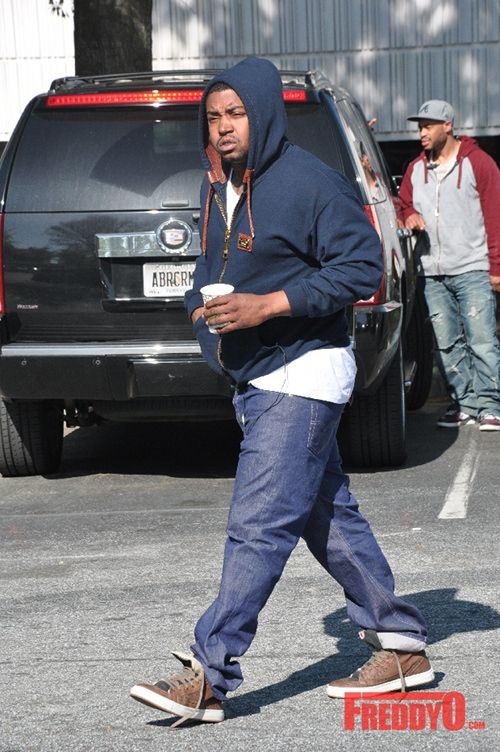 All the main players were snapped by photographers (who were likely tipped off).
And of course there was a shot of Lil' Scrappy speaking to someone in a suit (most likely his lawyer).
The "family" walked into the police station.
And Mama Dee was in rare form with the dramatics.... 
First, "The Queen" watched "The Prince" get taken away in handcuffs.
Then....she held it together for as long as she could before bursting into tears while clutching her fresh of the stencil iron "Free Scrappy" tee.  #endscene
In other "LAHH ATL" news.....
K. Michelle won't be wasting any of the season 2  "LAHH ATL" hype machine as she drops her first video from the Rebellious Soul album.  The song, "I Just Wanna" lets you know from verse one that she is TRULY the protege of R. Kelly. The lyrics speak for themself:
Cuzz I just wanna fuck
And not fall in love
Dont wanna go through the pain that love can bring
Tonight I want sex that dont mean a thing
That dont make me no slut
A woman has her needs
So dont go catching feelings for me
Tonight I want sex that dont mean a thing
Are we ready for K. Michelle?
Photos via FreddyO.com