Rihanna is back trekking it along on her Diamonds world tour.  She returned to the stage in Tampa last night after missing two shows in Texas last week due to an unspecified illness, but her Navy welcomed her back with open arms....and non stop screams. 
Check out Rih Rih getting back to business inside...
After having to skip the Houston & Dallas dates last week due to illness, Rih Rih had a few days to lay low, pause the partying and regain her strength.  And she was fit to return to her fans in Tampa last night.
Hopefully she's fully recovered this time and vowed to chill out a bit on the partying while touring.  The "Cake" chick kept it sexy as usual on stage and seemed to be back in business.
Check out her performing "Pour It Up" at the Tampa Bay Times Arena:
The River Island designing chick also posted a pic in white hot Alexander Wang cut out boots in the cockpit of her private plane right before she jetted to Tampa: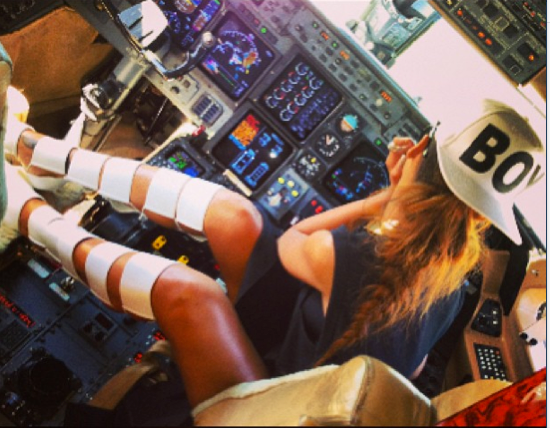 Next stop: Tonight in Sunrise, FL.
And despite all the negativity she's been caught up in lately--beefing with Ciara, cancelling tour dates and er controversial make-up with Chris Brown--the most coveted fashion designers are still Team Rih Rih.
And Tom Ford told WWD recently that he thinks of her when designing his collections for women who can afford to pull off the matchy matchy look:
Well, this was on a beautiful, beautiful black girl named Herieth [Paul], who is probably my favorite current model. She's wearing pink patchwork boots—it's patchwork pony, astrakhan, velvet—and a matching skirt and a matching jacket. Head-to-toe pink. One blogger wrote it was like Escada on acid, which actually I think is kind of a compliment, because Escada used to match everything. We haven't seen that for a long time. And if you're Rihanna, who is a customer, if you're that kind of person who can pull off matching hot-pink boots, skirt and jacket, and patchwork multimaterials, I think it's great.
And about her being sort of a muse:
Whenever I'm working on a collection, everything does have to be real, and those outfits are real to me. If I think, "OK, who is wearing this and where is she going?" And I think, "OK, that's Rihanna, and she's going to her lawyer's office in that all-black outfit and she's hung over and that's why she's wearing those glasses. Yet she's still a rock star."
Meanwhile, Rih has released the imagery for her new MAC RiRiWoo lipstick that was inspired by the brand's popular Ruby Woo: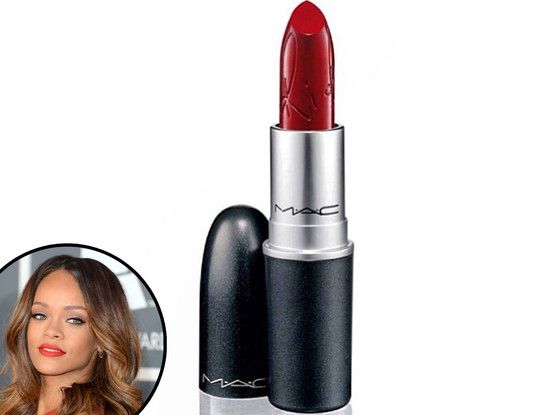 Nice.
Pics: Twitter/Instagram/Mac