Oh Juanita!  Up to your trickery again we see.  See why your favorite televangelist was ARRESTED last night inside...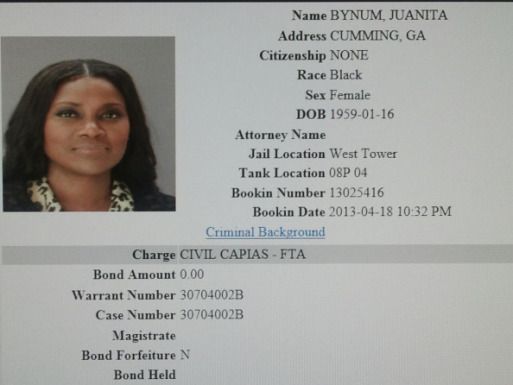 Yep!  Juanita Bynum has been jailed after an arrest in Georgia last night.  And get this--we hear it was all right before she was about to take the "pulpit"...at a hotel...to preach!  Her sister allegedly ended up preaching instead. Goodness.
Supposedly, a promoter named Al Washington filed a civil case against her.  And clearly he got tipped off she was making her way to the area and had her arrested.  Obnoxious Tv reports:
Al Washington says he paid Juanita Bynum $100,000 advance to start in a stage play that she never did. Word is he sued her and won. Juanita allegedly was to make payments that have been missed along with a court appearance to explain, and a warrant was issued.
And if you're wondering what a Civil Capias is exactly--we put on our lil legal hats and recalled these warrants are usually issued for a person who owes money based on a court judgment....or someone who fails to appear for a civil hearing.
She better get her Jesus-filled life...