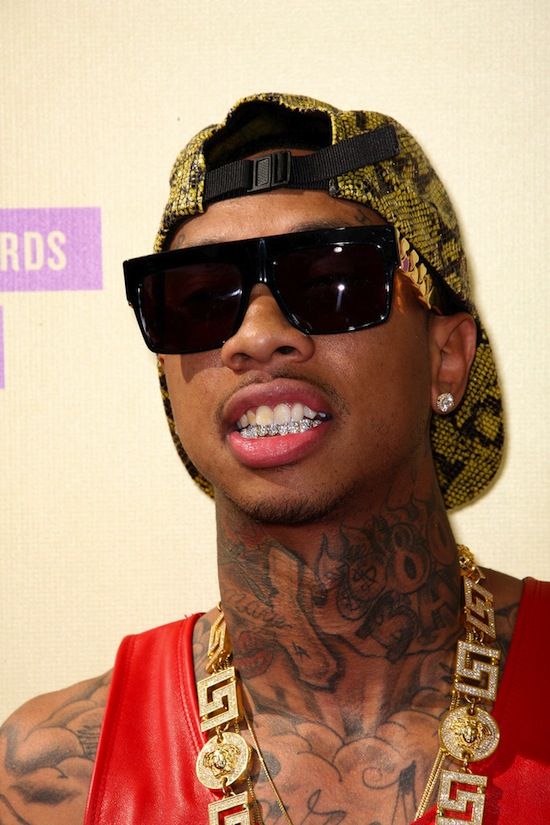 Rapper Tyga may have fine jewely, fancy cars and iced-out teeth, but it's not due to Young Money/Cash Money Records...cause he claims they're holding back his royalty checks!   Hear Tyga explain how he's "independent" yet signed to a major label inside...
During an interview with Power 105's Breakfast Club, Tyga confirmed what Juvenile, B.G., Manny Fresh and other have claimed for years.....royalty checks from Young Money/Cash Money records don't make it into the hands of the artists!  Y'all know his baby moms Blac Chyna's ears perked up when she heard there's possibly more money to be had.
As Birdman and Co. have long been accused of "witholding" money from their artists, Tyga all but confirmed it on the air.  But there's no hard feelings as Tyga explained that he thinks of himself as an independent artist.  He can still afford the bling and luxuries of the hip hop world through the tours and endorsements he secures on his own.  He said,
"I never got a check from Young Money/Cash Money. But by me saying that, I've always treated my career like independent and everything that I got is because of myself, my own endorsements, me touring, myself. I think I got a signing bonus when I first signed but that was it."
Damn!  He added,
"I felt if I wanted to be independent...I could do that because it would be no difference. I would still tour, put out albums and still sell out shows."
And he's not holding any grudges because he's got his money right,
"At a certain time, you get your money but at the same time, they pay for your videos and all that other stuff. But I never really was dependent on the label like that."
Tyga's third solo album, Hotel California, is in stores now (but he won't be getting many checks from it).
Watch Tyga break down his hustle here: