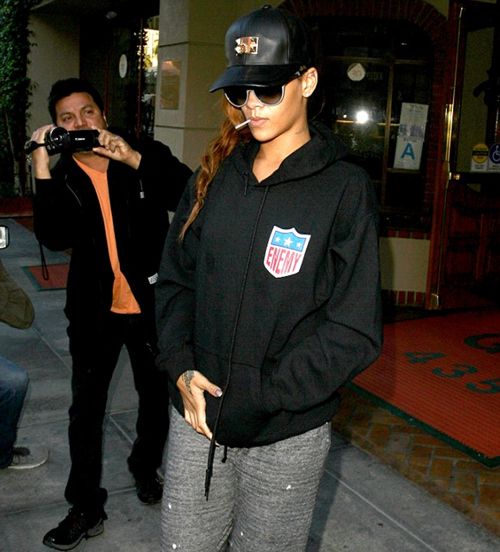 Rihanna's been spending her time all over Instagram recently, while apparently covering from an ongoing sickness. Check out what she posted on a fan's account to explain her illness and why she cancelled Houston inside....
Rihanna was spotted back in Beverly Hills yesterday going to the doctor. She then told her fans, via one of her infamous Rihplies on someone else's account, that she feels "sad and disappointed" that she had to cancel her Houston stop this week. But she's actually been since since her San Diego date weeks ago, she says.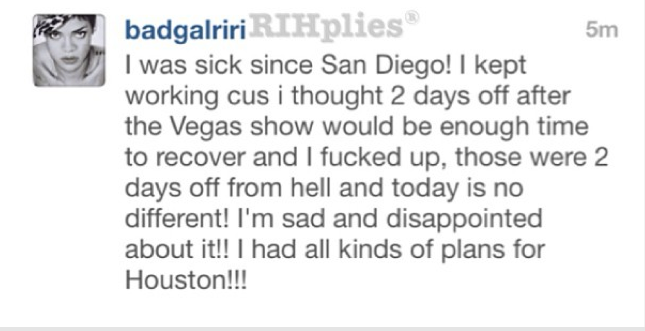 Interesting since we've seen her partying hard with her bestie Melissa for her b-day this past weekend in Vegas, tossing back drinks courtside at the Clippers game last week, and cruising around L.A. with her boo Chris Brownrecently as well.
One of her fans popped off on her saying:
'You not sick you out having fun. How dare you plan a tour then forget your responsibilities!! You need to also be focused on your career. I paid good money for these tickets n they were a surprise for my lil sis 18th bday n now we can't even go!! (sic).'
Even if Rih is truly sick, it may be best to skip all partying & "outings" all together and sit on that tour bus and give your body a break...since you're sick and all.  Or at least don't Instagram the constant partying & drinking & smoking that you're doing....while claiming you're sick.  Just some suggestions.
 
In other news, some online reports pegged Rihanna as the new face of Chanel due to one of her mysterious Instagram pics where she rocked Chanel and said she was shooting a "top secret ad campaign."  Chanel spoke out saying she is indeed not the face and is not shooting for them. 
It could have been for her upcoming MAC campaign though.... 
Photo: Splash