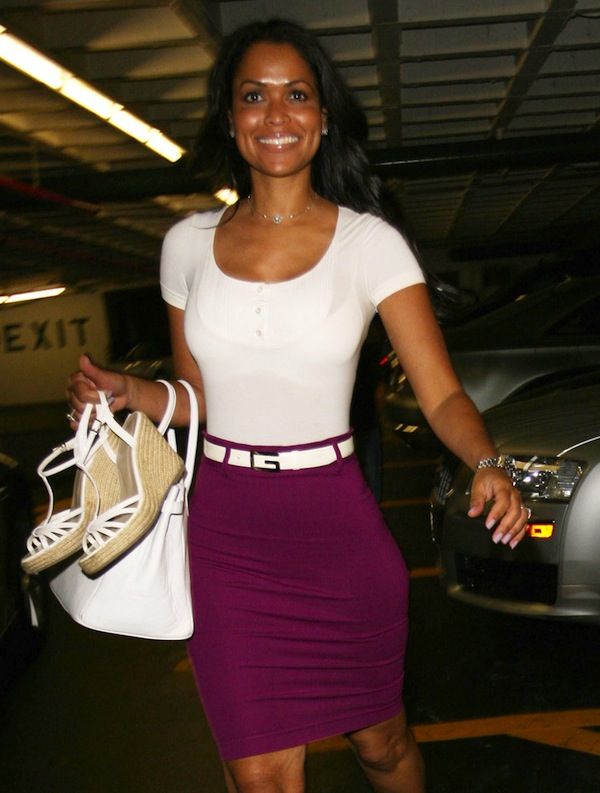 Producer Tracey Edmonds recently opened up about the moves she's making behind-the-scenes in Hollywood, including a "Basketball Wives" movie with Shaunie O'Neal and her new YouTube channel, Alright TV.  Also, she talks about working with boyfriend Deion Sanders.  Find out what she said inside....
Producer Tracey Edmonds ("Soul Food"), who was married to Babyface and was married to Eddie Murphy (for a few days), is now admitting she's dating Deion Sanders.  We called it a while back and she denied it, but despite being hated by Deion's ex-wife Pilar, she's now copping to their relationship.
So Tracey chatted with Essence.com recently about some of the struggles she faces as a woman and mother in a male-dominated field.  And how she's built own brand outside of the famous men she's been involved with.
During the chat, she spoke about her new YouTube channel and also revealed a "BBW" movie in the works with Shaunie O'Neal.  Lord help us.
Here are the highlights:
 

Congrats on the launch of Alright TV. What was your motivation in creating this channel?

TRACEY EDMONDS: A year and a half ago I started tweeting something inspirational every morning to keep people going. I got so many tweets back and had no idea how much it helped others. I realized people were really hungry to be uplifted and inspired. I had been working on a business plan for a cable network of inspirational programming and YouTube was the perfect partnership. We offer high entertainment value alongside a message, without beating people over the head.

 

We also see Deion Sanders, who you are dating, has a few shows on your network. How is it working with him and also being in a relationship?

EDMONDS: He's been wonderful. He's one of the most positive people I know. On the network, Deion hosts Sports Dad where he comes to the rescue of sports-obsessed dads who are pushing their kids too hard. He's also doing an inspirational blog. I met Deion through business and had a chance to see the wonderful man he is.

 

With so many "wives of" shows now that feature women whose claim to fame is who they dated, you have built your own brand. Was that always a goal?

EDMONDS: I've always been an independent woman and wanted to be sure I was okay financially, regardless of what happened in my personal life. I'm an optimist and hope for the best in a relationship. But life throws you curves and you never know when the fairytale is going to end. For women, it's important to be able to stand on your own. I had great memories and great years with Kenny ["Babyface" Edmonds]. I also had my own vision. When you build a brand, you have to know you are putting a spotlight on yourself and you have to carry yourself correctly.

 


You have thrived in a male-dominated field. What quality has been most beneficial to your success?

EDMONDS: Being thick-skinned and staying focused. There is a lot of rejection and I still get rejected all the time. I learned when someone tells you no, that gives you an opportunity to find another way. I got so many no's for Soul Food. I went to every studio and was told no. They asked, 'Where's your audience? Who's going to go see it?' There was nothing to compare it to and Soul Food was an anomaly. The last studio was Fox 2000. Producer Laura Ziskin realized this was a universal story about family and green lit the movie. That was my first producing experience and opened the door for so much more. If I had stopped with the first no's I got, I might not be where I am now.

 

What's next for you?

EDMONDS: There is a Jumping the Broom sequel in the works and I am also producing a Basketball Wives movie with Shaunie O'Neal. It's not based on the show and is an uplifting story with a lot of twists.

 
Read the full interview here.