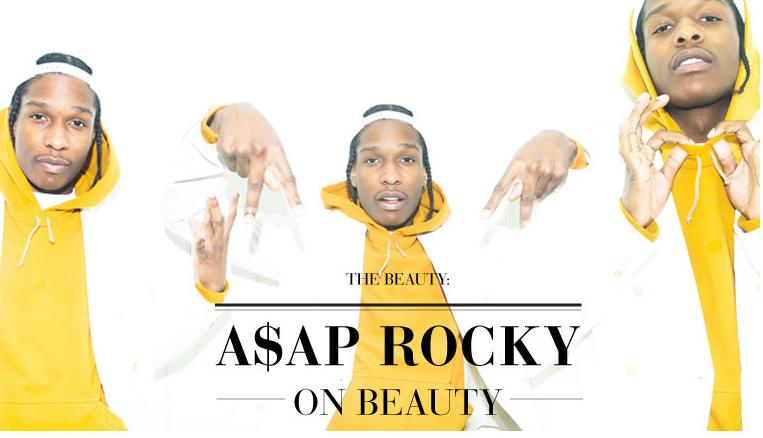 The fashion loving rapper who's currently on tour with Rihanna, A$AP Rocky, dished out his beauty secrets to Coveteur.  And while we're fans of the self proclaimed "pretty muthafu**er", we suggest he not go there with makeup do's and don'ts for black women.
Check out what he had to say inside that has folks around the net in a tizzy...
He's known for his sleek long hair, fashion loving edge and baby faced skin (his secret is witch hazel) that apparently, plenty of chicks think is sexy.  So when Coveteur asked the "Goldie" rapper to dish out his secrets about hair and skincare, naturally certain folks would be a bit interested.
When asked about how he handles his hair, he says he simply ties it down at night and only washes it once a week since "black people don't have to wash it as often."
OK, we can co-sign on that.  But then ish went left when he was asked how he likes women to wear their makeup.  He said he's more of a natural guy:
"But you girls don't understand how much you mess up your skin. You can't help it, but make-up is the worst thing you can do to your skin. I love girls natural, but I don't mind make-up. There's nothing wrong with it, there's really nothing wrong with it. See, guys like us we just like—well me, I only speak for myself, but guys like me, I'm used to normal. I'm used to real. Like yeah, your shit is going to stink, you're real, you know? You piss, you bleed, you laugh, you cry—you're human. So makeup is just like an artificial expression if you ask me."
He very well could have stopped there.  But then he continues on about what "non-fair skinned" (in other words, brown) girls shouldn't do--like red lipstick:
"When it's time to get all dazzled up or you're going out, then fine. I like red lips, it's fine. I'm going to be real, though: it's bad for making out, because it gets on the guys. But for real, for me, I feel like with the red lipstick thing it all depends on the pair of complexion. I'm just being for real. You have to be fair skinned to get away with that. Just like if you were to wear like—f*cking for instance, what do dark skin girls have that you know fair skinned girls cant do… Purple lipstick? Naw, that looks stupid on all girls! Purple lipstick, guys! Like, what the f*ck…"
Just when we were starting to love some A$AP, he goes and shows he's an ignoramus.  There's no need for us to school him or others about how and why red lipstick can work for EVERYONE, since he seems dead-set on perpetuating complexion stereotypes. 
Sometimes fellas, it's best to just stick to what you know:  Your music and your flat iron.  Folks love to give negative words publicly to the brown skinned YBF beauties out there (he could have said what he loved about brown skinned beauties, but he didn't).  Chill out. 
In the words of our fave nutty brown skinned beauty Kenya Moore: Don't come for us unless we send for you.
Photo: Coveteur