Rihanna was all about the Clippers game last night at the Staples Center.  Check out pics of the "Pour It Up" singer having lots-o-fun and drinks courtside, plus what Chris Brown was up to in the club without Rih Rih....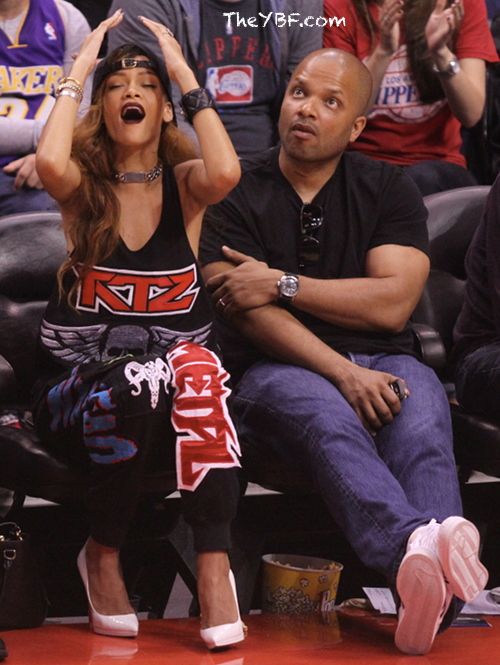 She's the queen of making menswear sexy, and yesterday was no different.  Rihanna, who got into the game like crazy with her manager Jay Brown, rocked head to toe Kokon To Zai as she rocked the colorful and heavy metal inspired tank and sweatpants from their Spring/Summer 2013 menswear collection.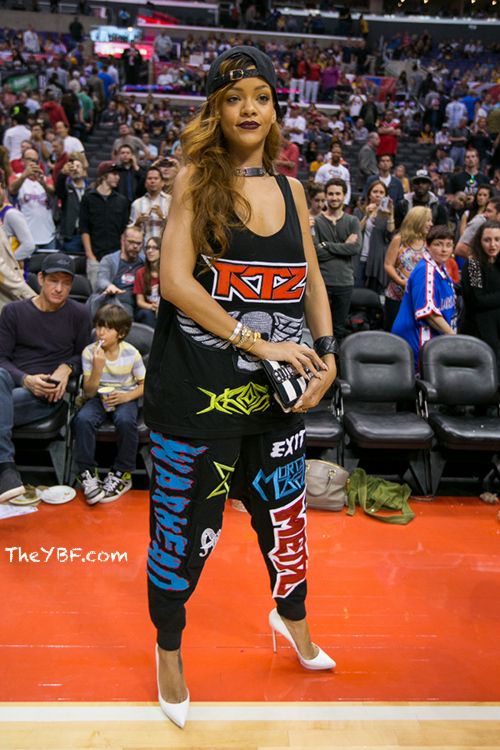 She paired the look with a few girly items -- her white Christian Louboutin Pigalle Plato pumps, a Céline ID necklace and a leather Chanel cuff.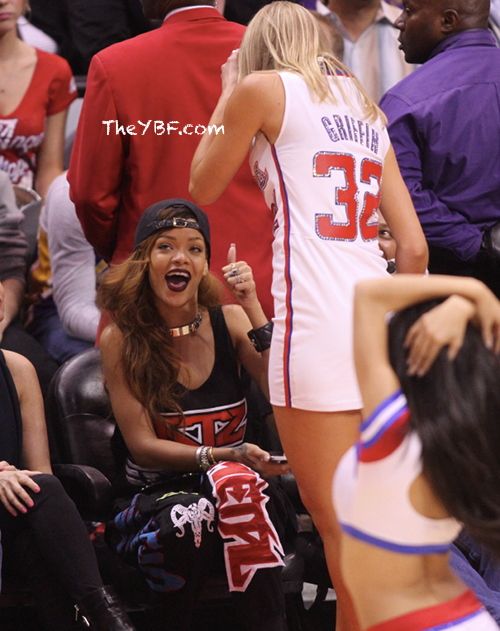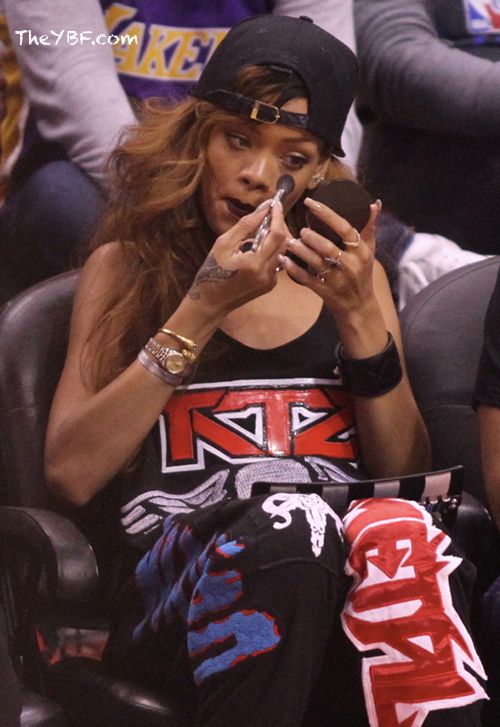 She was spotted touching up her makeup after downing a few beers and yelling at the refs.  And then she hit the club at Greystone as usual: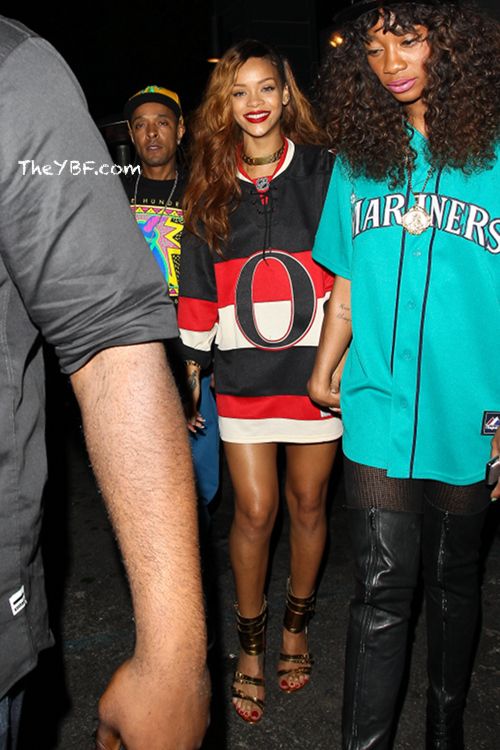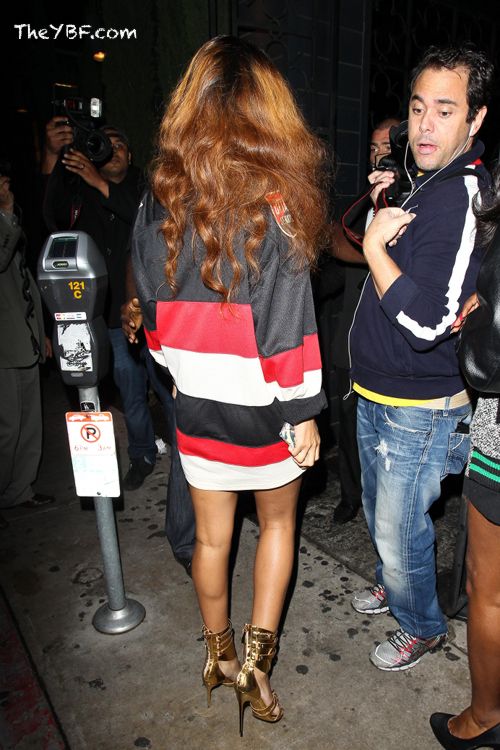 Hot shoes.  Rih performs at the Staples Center tonight for her next stop on the Diamonds Tour.
Sidebar: Rih Rih had some words for Kim K.'s little sister Kendall Jenner on Twitter when Kendall made a demand about Rihanna should perform at tonight's concert.  Rih's response: "Well don't come then."  Ha!
Meanwhile, Chris Brown was spotted chillin' at Playhouse in Hollywood on Saturday night.  Even flirting with and buying chicks (like blondie below) bottles of champagne: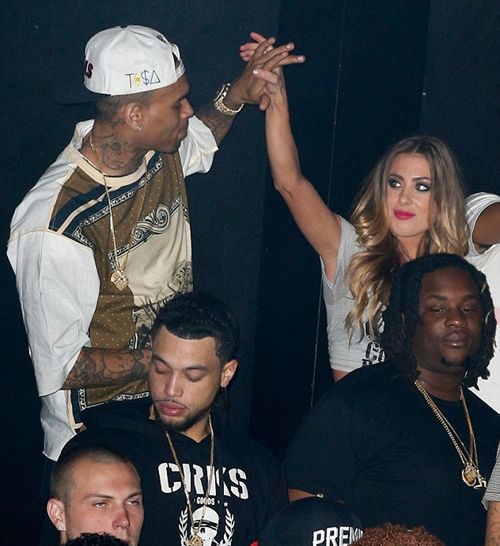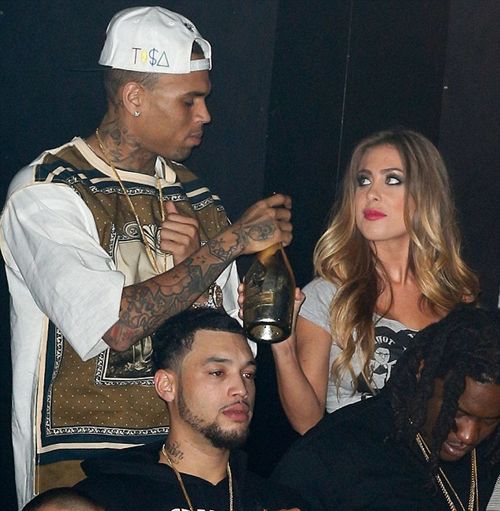 She's looking like she plotting hard to get a piece after that club.  Watch ya self Breezy.
UPDATE: The blonde tweeted she's actually a waitress in the club so this was nothing.  Because we all know waitresses have never had a flirty exchange with a celeb in the club...
Extras:
1.  R.I.P. Margaret Thatcher.  STORY
2.  Nelson Mandela is back home from the hospital.  STORY