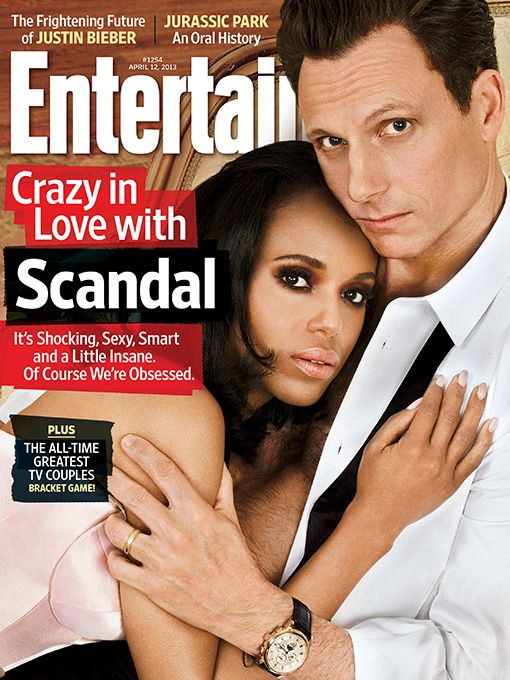 Kerry Washington and Tony Goldwyn got a little "scandalous" for their photoshoot with "EW" to promote the upcoming season finale of "Scandal".  See the cover inside and see what the show's executive producer says fans can expect to see....
"Scandal" stars Kerry Washington and Tony Goldwyn got pretty damn close for a sexy shoot in the latest issue of "EW" magazine.  Inside the accompanying article, the magazine dished with the show's stars, executive producer Betsy Beers and show creator Shonda Rhimes.
Shonda, knowing that the show gets 220,000 tweets per episode, explained the show's appeal to fans and celebrities saying, "I feel like The West Wing brought us Washington as we'd all want it to be. And this show brings us Washington as we hope it would never be."
And Kerry, whose Olivia Pope character is a popular topic on social media sites, was shocked to find out that Mary J. Blige, Oprah Winfrey and LenaDunham are amongst their fans.  "Bill Clinton was another person where I was like, 'What?! You watch Scandal?! I feel like it happens at least once a week — that I am totally floored by somebody who watches the show."
So what can fans expect from this year's season finale?  Betsy tossed out a teaser to the mag saying,"If people think we're burning through story now, they're going to be very shocked at what happens in the next few episodes."
That chemistry though....we're getting our popcorn ready....
Watch "BTS" video from the cover shoot
And if you've ever wondered how "Scandal" would play out if Olivia Pope were POTUS, watch Kerry and Tony trade roles
here
.
The "Scandal" cover hits magazine racks on April 5th.