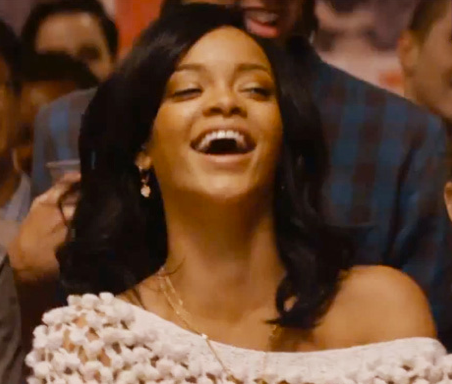 Rihanna makes a cameo as herself in the new comedy "This Is The End."  Watch the trailer inside and see Idris Elba in his first commercial campaign....
As Rihanna treks across the world for her "Diamonds" tour with A$AP Rocky, die-hard Navy fans will also be able to catch Captain RiRi on the small screen as she makes a cameo in the Seth Rogen's comedy This Is the End.
Hitting movie houses on June 12, the film stars James Franco, Jonah Hill and Craig Robinson, and follows what happens after a big Hollywood party goes left and most of the guests (including Rihanna) are swallowed up by a sink hole. Sounds like fun....
Watch the "This Is The End" trailer here:
And in new commericals....
British import Idris Elba, the famed actor/producer/director/DJ does his first commericial campaign as the star of a new series of shorts advertising the Toyota Avalon. 
Chosen by Burrell Communications (a Black-owned advertising agency) to front the series of shorts, Idris said, "I've never done a commercial before. It was a really good experience, lots of great shots and it's a great car."
He explained the dramatic, spy-themed advertising campaign saying "The guys are looking for me but they don't recognize my car, because it does not look like an Avalon." He added, "My favorite part of the campaign is doing all of the amazing stunts," he said.
Watch the clip above....