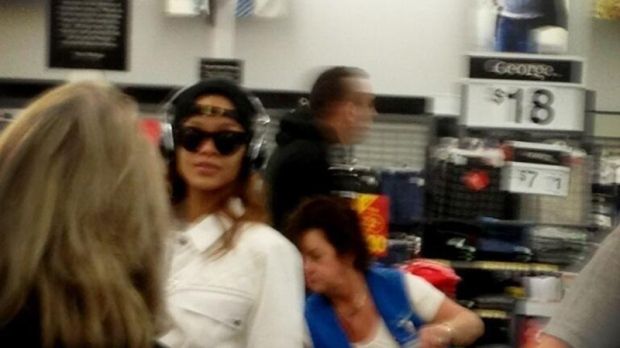 Rihanna showed that she's just like us regular folk as she shopped at one of America's most famous discount department stores yesterday. Find out where she went inside and see what Chris Brown had to say about their possible duet album inside....
ATTENTION Wal-Mart shoppers....you really did see Rihanna in the ladies department!  Shoppers at a Wal-Mart in Kamloops, B.C. were shocked and stunned to see millionaire pop star Rihanna shopping at their store on Sunday.
Riri, whose "Diamonds" tour rolls into Vancouver's Rogers Arena tonight, spent most of her time in the ladies department while at the store. Shoppers called into a local radio station to report that she also purchased a soft drink and donated to McHappy Day.
We know Rihanna puts one foot in front of the other like the rest of us, but it's refreshing to know that with all her money, she can still appreciate Wal-Mart's rollback savings.
In other Rihanna news.....
Chris Brown has spent the better part of the day speaking about Rihanna while promoting his "Fine China" single and upcoming X album.  This morning, he spoke to Matt Laueron the "TODAY" show where he confirmed that he and Rihanna are still a couple and he would never hurt her again.
Later, at MTV, he spoke about their latest duet, "Put It Up" which will appear on X.  He said, 
"I wrote a song, it's called 'Put It Up.' It's more of an R&B record. I wanted to do an R&B record with Rihanna because I didn't want it to be the same four-on-the-floor, pop. At the end of the day, that's what they expect from us, so I wanted to do more of a record that nobody really heard her sing on as far as that genre."
He also commented on her work ethic saying, 
With her work ethic...she's just as liberal and vibrant. She goes in the studio and it's easy for her, like it's nothing....I remember she was doing her album and I was at the crib one day, and she was just recording in the house ... and she was just sitting there, the TV was going — [the sound] was off — but she was sitting there with the headphones, singing, the top of her lungs, killing the song. I was like, 'Woah, she do it just like me. That's effortless.' "
There's also a possible duet album between the "Birthday Cake", "Nobody's Business" singers. "[That] might be crazy," Chris laughed. "You gotta wait though. X and then you get the Rihanna and Chris Brown album!"
On a possible Rihanna duet album:
On his musical chemistry with Rihanna: