Tameka Raymond, the ex-wife of "The Voice" judge Usher, launched Kile's World Foundation over the weekend in memory of her 12-year-old son Kile Glover.  Find out about the foundation inside....
Over the weekend, Tameka Raymond (shown atop with sons Darren, Ryan& Naviyd Eli) honored the 12th birthday of her son, the late Kile Glover, with the launch of Kile's World Foundation at the Woodruff Arts Center.
Shortly after Kile's passing (following a jet ski accident in 2012), Tameka announced the goals of the foundation tweeting, "Our goal is to increase water safety- thru implementing laws, policies & education. Kiles passing will not be in vain, we will see to this."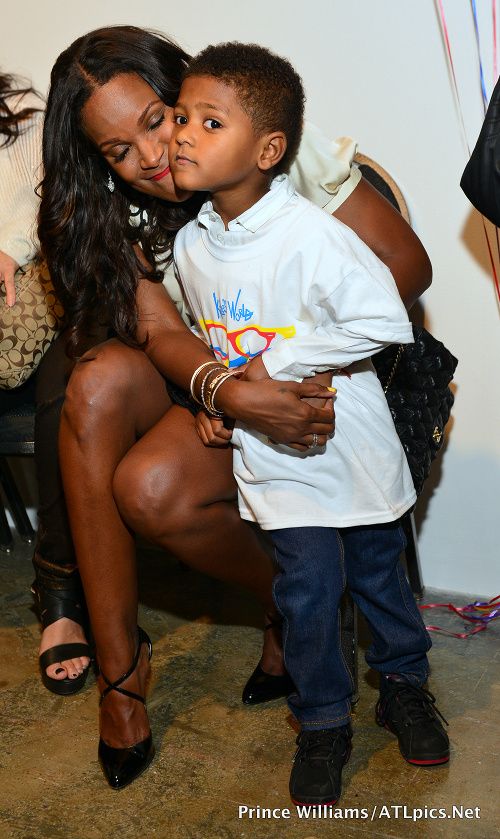 Tameka clutched little Naviyd as he listened to Kile's voice playing on some videos being shown during the event.
Tameka's sons with Usher (Usher Raymond V and Naviyd Ely Raymond) were in attendance to honor the memory of their big brother.
"Big Rich Atlanta" stars Sharlinda Parker and Brie Rowe and Bow Wow's mom Teresa Caldwell came out to support Tameka.
She shared that Kile's World Foundation will "offer art- based camps with multiple workshops including general instruction in the areas of acting, singing, dance, painting, illustration, music production and digital media." Also, Tameka says Kile's World Foundation is poised to eventually open a magnet school with an emphasis on music and the arts.
And Tameka had the room decorated with artwork created by Kile before his death.  
Tameka has truly created a wonderful foundation to honor her son.  
Photos via Prince Williams/ATLpics.Net