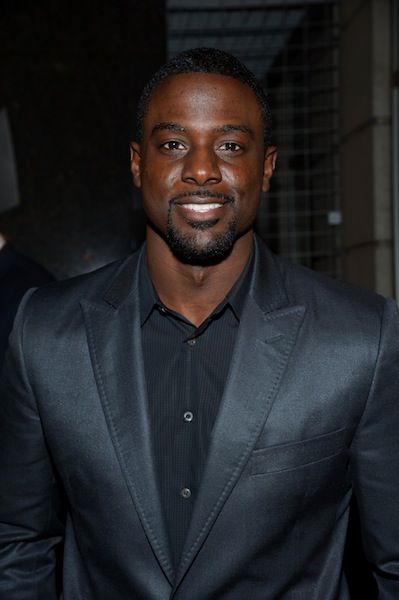 Lance Gross has been making his rounds promoting his new film in theaters this weekend, Temptation.  And he told Huff Post Black Voices about the criticism surrounding one of his co-star's acting skills (or lack thereof), and whether he's had his own "Temptation" style drama with any of his past girlfriends....
One of our fave hotties let the world know just how well he treats his women (damn, what happened Eva Marcille?) and why he feels like people need to fall back on slamming his co-stars.  Here's what he had to say:
Last year upon the announcement of the film's cast, there was a ton of criticism surrounding Kim Kardashian's role. What were your thoughts on the situation?

I've been working with Tyler since 2007 and he has a great business mind. He knows what he's doing and he knows what he wants for his films. So I don't really question his decisions in casting people. To Kim's defense, she did a great job. The role that he gave her was well thought out. It was something that he believed she could execute. And I think she brought her "A-game." I get what all the fuss was about, but at the end of the day you got to give people a chance. And I feel like she really proved herself.

Throughout your career you've been viewed as a heartthrob. With that said, have you ever found yourself in a position similar to your character?

Man, I've never been through a situation like this. I mean, of course as a man you go through that. If you got a dope girl there's going to be people that want her. But I don't know, I've always kept my "A-game" on point. I just make a point to make sure the woman that I'm with is taken care of. You got to keep it new, so I go out of my way to make them feel special. My thing is, if I'm going to be with you, I'm going to be with you to make you feel like this is the best relationship that you ever had. And that's what I aim for to make sure none of this happens to me.

Since you've never experienced any issues in your personal life, was that a challenge in preparing for the role?

It was and it wasn't. Because I have a lot of friends who are married and who have dealt with infidelity, so I pretty much picked their brains and experienced it through them. And for me, personally, everyone has experienced losing someone. Whether it's a relationship that fell apart or death, everyone knows that feeling. So that's where I pretty much pulled from for this.
Well isn't that sweet?  Meanwhile, social media is buzzing with people talking about hitting the theaters to see Tyler Perry's newest flick.  It'll be interesting to see the numbers ta the end of the weekend.  Check out the full interview over at Huff Post.
Are you going to see Temptation?
Photo: HEINEKEN USA