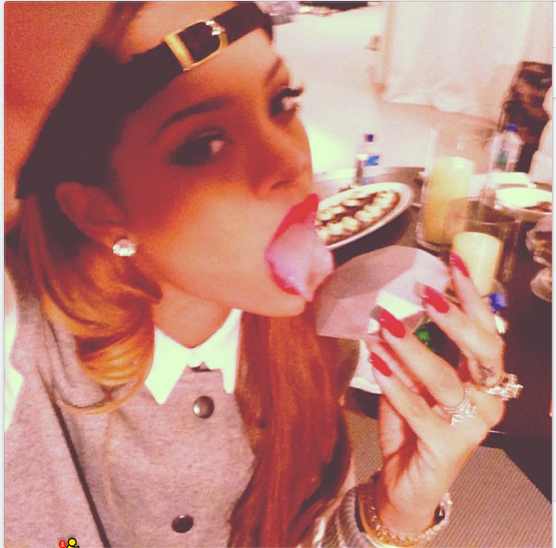 Put ya guns in the air....Rihanna's on a firing spree.  After she was named Britain's #1 Pop star, she gave her own rant to other chicks in the game.  Check it inside...
Rihanna celebrated on Instagram today after a British music tv station named her the Most Influential Pop Star.  The UK's 4Music channel based their decision on social media activity, air play and press coverage.
Similar to MTV's Hottest MC's List  (like many pissed rappers believe), Britain's list didn't include talent or quality of music.  And while we know Rihanna lives out her life on Instagram with no guards up, releases most tracks off her albums as singles and stays in the press with her fun and sometimes controversial antics, it's understandable why she's deemed #1 by the music channel.
Beyonce came in at #2 and Katy Perry (Rih's good friend) landed at #4.
But not everybody's happy for the Rude Gal.   Some folks went off when they saw Rihanna's announcement on Instagram....and her words that went with it.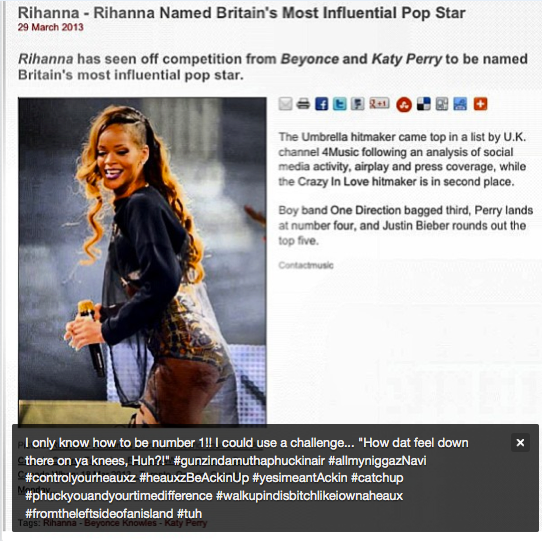 Rihanna said she could use a challenge, and asked how it felt to be down there on ya knees.  She clowned about controlling your heauxs and owning this lane.   And in usual Rih Rih form, it was pretty hilar.
But a few Beyonce stans and Ciara stans (remember that beef with CiCi?) took to her page to go off commenting:
#BEYHIVE BEEN ON BXTCH

and

Whoa ho ho bad gal rih just learned how to master the three octaves she can sing now we all must get on our knees alright alright im bowing! Lol congrats tho always nice to see success
And Rih's fans replied with statements like:
Bow down bitchez. Lol! #PourItUp #whosthequeen #phuckyohaterz
Rih also said, "It's only March people... #2013isalreadyowned #staytuned #MoneyOvaBitchez."
Was this Rih's answer to Bey's "Bow Down"?  Who knows...especially because Beyonce never said the song was only aimed to women in the industry as opposed to her haters in general.  However, Rihanna's statement seemed aimed soley at her peers.  But certainly not ALL her peers since her bestie is in the top 3 as well.  But you decide...
Either way, we hope Rih pours some up and celebrates.  Congrats.