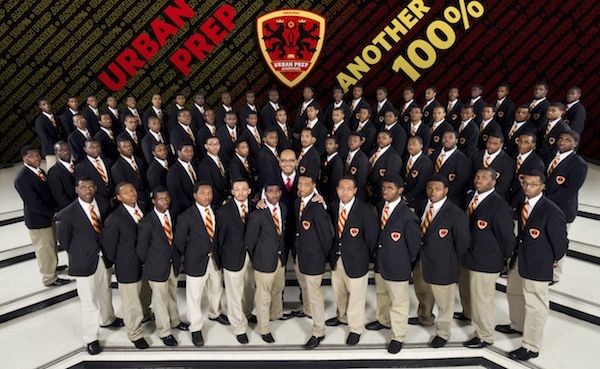 For the fourth year in a row, Chicago's Urban Prep Academy is sending 100% of its graduating class off to college.  Get the deets inside on the school that is setting the example for America.....
Just when you thought the next generation's success was questionable due to their lives being run by Twitter, Instagram, social media and reality tv, at least one specific group is constantly excelling.
For the fourth year in a row, Chicago's Urban Prep Charter Academies can proudly announce that all of its graduating seniors have been accepted to four-year universities.
This year, Urban Prep, the all male charter school excelling in a city facing the worst crime stats in America, is sending off 167 seniors (from their Englewood and University Village campuses) to institutions of higher education.
Mayor Rahm Emanuel spoke about the accomplishment saying, "What this 100 percent proves beyond a doubt is that it need not be the exception but it should be the expectation for every child in the city of Chicago."
Urban Prep founder Tim King expressed his excitement saying, "It's really heartwarming. It's really an inspiration. These guys are an inspiration to all of us because they show you what can happen when you really work hard and do the right thing. I feel great. There are no words to describe how powerful and wonderful it is to be a part of Urban Prep."
 
The country's first all-male charter high school started in 2002 out of a need to cater in an innovative way, to boys in the city.  Approximately 85% of Urban Prep students are low-income and nearly all are African-American. 
The school--which operates off a lottery system and open to any Chicago resident 9th graders--has proven once again that succeeding in education is not about how much money or access your family has, it's about an unparalleled focus on students and the best teachers possible. 
Watch a clip from the graduation ceremony above.  Congrats to the young men!