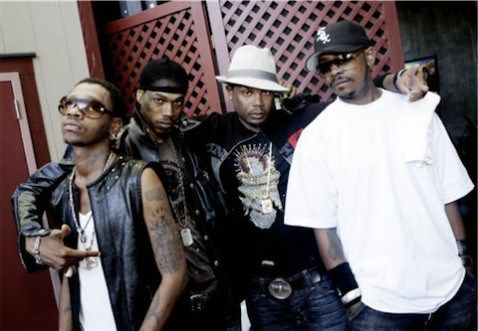 Wondering what these 4 fellas have been up to since the 90's?  It definitely aint all good news for at least 3 of them.  Deets inside on Jodeci's recent foolywang material of a concert inside...
So, someoneone thought it was a good idea to add Dalvin, K-Ci & JoJo (Devonte was not in attendance) to "The Show" bill, a concert at Wembley Arena in London that showcased 90's R&B acts like SWV, Dru Hill and Changing Faces.
All the groups were reportedly great, except for Jodeci.  The guys sounded like they just sang together for the first time in 20 years at the soundcheck earlier that day.  And the crowd started to BOO them when the group asked if they could perform for 10 minutes longer.  Not a good look.
And peep the second video where literally 49 seconds into their show, Mr. Dalvin jumps off the stage.  And can't get back up on stage.  Someone had to help him.  Here's the rundown from the concert goer who posted one of the videos:
After great performances from Changing Faces, SWV, Dru Hill and Blackstreet, Jodeci came out headling the show. With high exceptions now been set, within the first 30 seconds of Jodeci's performance, Dalvin jumps off the stage almost breaking his back with another member leaving the stage immediately after!!! They tried to carry on with thier performance after that with 3 members, but thier singing was out of beat/tune, where clearly no rehearsals had taken place as THEY were all over the place, with one member singing acapella whilst another talking over him….it was safe to say they were under the influence of something (again) The crowd started booing them within a couple of minutes and the arena started to empty rapidly.

Jodeci do NOT need to come back to the UK (not even for a holiday!!!)- DJ Weighty J
The group has had their fair share of drug and alcohol problems, so we wish they would have spent a bit more time practicing just to make sure they were ok, because....
Let it be known, we'e big Jodeci fans around these parts.  Hence, why this is so painful to watch and we're mad they even set themselves up for this.  These dudes deserve their respect in the game, but ish like this messes up their legacy.  Keep hope alive though....