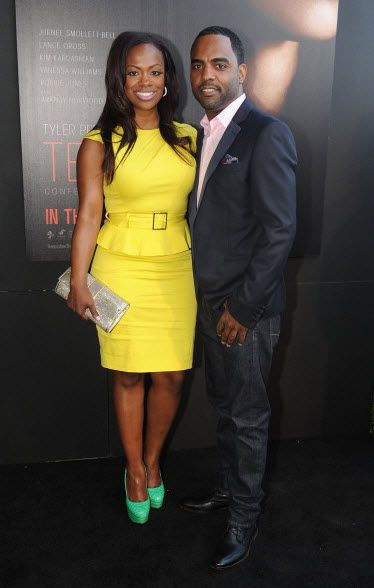 As she gears up for her wedding to fiance' Todd Tucker, Kandi Burruss is dishing her own marriage advice to TheYBF.com.  And also tells us a bit about the upcoming "Real Housewives of Atlanta" reunion show, if she's returning to the show, and why BRAVO is pissy she's suing Kim Zolciak.
The engaged Kandi Burruss has some marriage advice already.  And it's the smartest we've heard so far. 
"Well, I learned from housewives that I shouldn't be giving other people advice about their marriage," Kandi, in a yellow peplum Karen Millen dress, dished exclusively to TheYBF.com at the Atlanta premiere of Temptation this past Saturday.
She continued, "I felt bad [about how the girls treated co-star Porsha Sewart on the L.A. trip]. After I went back and watched it, I was like 'oh that was wrong'. My mama always said you're not supposed to speak on other people's marriages, so that's my advice.  Just mind your own business and don't be trying to talk about it to other people who are not married."
Duly noted, Kandi.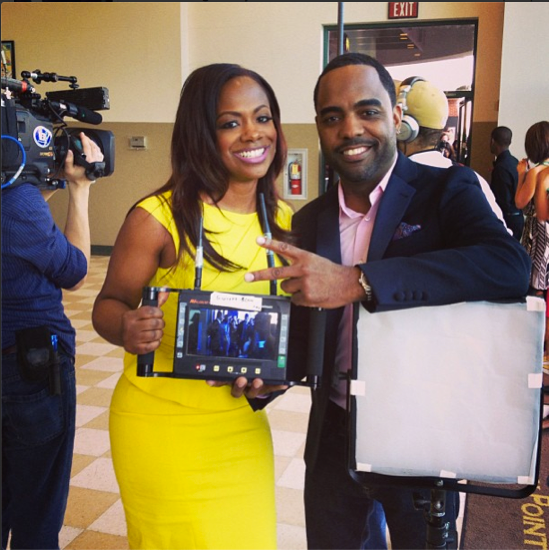 Check out what else the singer/songwriter revealed to us about whether she'll return to "RHOA" and why she's going forth with this lawsuit against former co-star Kim Zolciak over "Tardy For The Party".
On if she's returning to "Real Housewives of Atlanta" for another season: You know what, this year I have to say, [this season] was a lot better. I mean we didn't have drama, it was more funny stuff to me. When Kim left the at the top of the season, it actually made things better for the rest of us. We had little things here and there, but it was cool. I'm not totally done with "Real Housewives", but at the same time I'm more excited for "Kandi Factory". Just because it's not about drama at all. It's about the music and me helping people. And I'm executive producer on that, so it's a little different.
On the controversy over her newest single "Stay Prayed Up": At times it made me feel really bad. But other times, I was just like, you know, I've gotten use to people having things to say. I was just doing what's true to me. I would like to do more Gospel, but at the same time, I don't think people are ready for that from me.
On last week's "RHOA" reunion taping: I had to sleep all day from Thursday. It was an all day training event, but it was cool.
On why BRAVO wouldn't Kandi speak on her lawsuit against Kim Zolciak at the reunion taping:  Well, [producers] don't want me to sue her.  You know when you're on a show together, they say you're not suppose to sue each other. But what I'm suing her for has nothing to do with the show.
 
Kandi, pictured above joking around at the premiere with her producer fiance Todd, will premiere "The Kandi Factory" spinoff on April 9th on BRAVO.
Photo: KingDomLos' Instagram