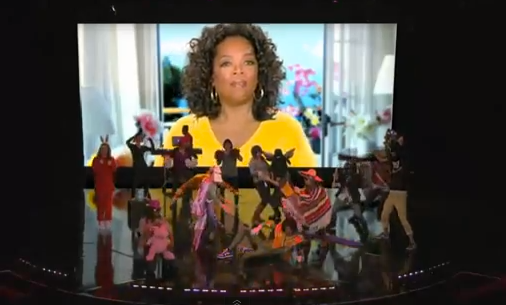 Oprah Winfrey and her staff her joined in the Harlem Shake craze.  Watch the staff at OWN do the shake and see what Oprah said about making out with Terrence Howard  on "The Butler" set and how he "misbehaved."
Even Oprah Winfrey has joined in the viral dance craze "The Harlem Shake." A few employees from OWN turned one of their studios into the ultimate dancefloor where they turned it up....before Lady O magically appeared on the big sreen like the Wizardess of Oz!
And speaking of Lady O...
She stopped by "The Steve Harvey Show" where she talked about her upcoming film The Butler  and her steamy love scene with Terrence Howard. Terrence made headlines recently after he talked about his Oprah's love scene saying,"To be able to make out with Oprah and to have love scenes with her and those tig ol' bitties. She's such a lovely, voluptuous woman. She's very beautiful, and that was wonderful."
And from the looks of it, Oprah was far from offended by the comments. She told Steve,"Well, I do have big breasteses." She said that initially the scene with Terrence was supposed to be "small" but because he "misbehaved" the scene got bigger and bigger. In case you missed it, watch Terrence talk about making out with Oprah Winfrey...
"The Butler" is expected to hit the big screen October 18, 2013.