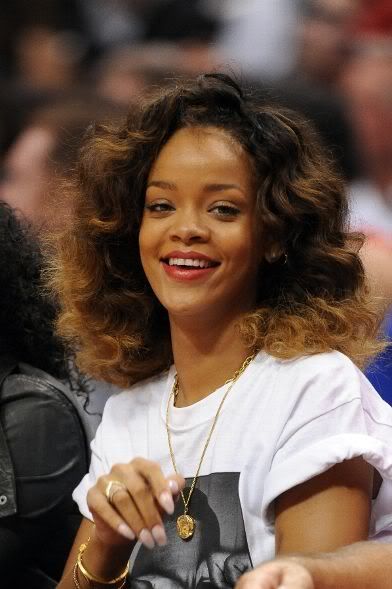 Rihanna, who was spotted chillin' courtside at the Clippers game last night in L.A., just signed on as executive producer of a new fashion competition show set in the UK.  Inside, get deets about the show and find out what she said about people hating on her new "Thug Life" tattoo.  Plus Jennifer Hudson's fiance David Otunga finally using his law degree...
Rihanna is set to executive produce an as-yet-untitled fashion competition show that will air on the Sky Living channel in Britain. The show will be hosted by Girls Aloud singer Nicola Roberts and will include appearances by Rihanna.
On Sky Living's website, Rihanna said,
"I've always had a great love of fashion. It's a constant source of inspiration in my life, and is a big reason why I've grown into the person and artist I am today. I have been very fortunate to work with some truly amazing designers and stylists throughout my career, and they have been instrumental in making sure my creative vision reaches the stage. I am excited to follow the journey of our aspiring contestants and see how their individuality influences their efforts during the course of the show."
Sources say the show will mimic "Project Runway" with designers creating a unique stage outfit for Rihanna's performance at the Wireless festival in Hyde Park, England, in July.
And about that tattoo......
When folks got on Twitter blasting Rih for getting a "Thug Life" tattoo on her knuckles, she blasted back and let them know she will do as she damn well pleases.
She tweeted,  
'Err'body has an opinion, but yall know what yall can do with them!!! #THUGLIFE.'  I'm thinking I shoulda got a tear drop instead!!! #THUGLIFE maybe next time. All eyes on Rih, betta picture me rollin' #THUGLIFE," "I can't deny it, ima riot..u don't wanna fuck with me! #THUGLIFE haaaaaaa. RIHpac back!!!"
Goodness....
More pics of Rih courtside last night: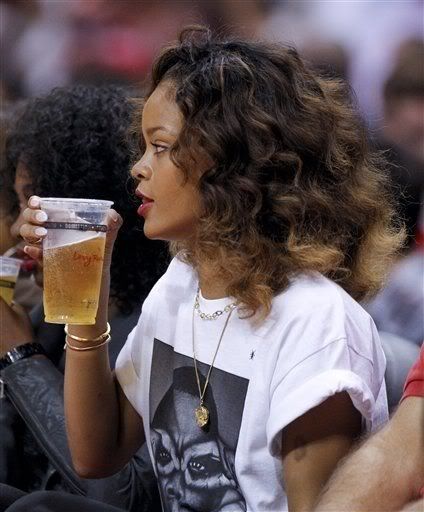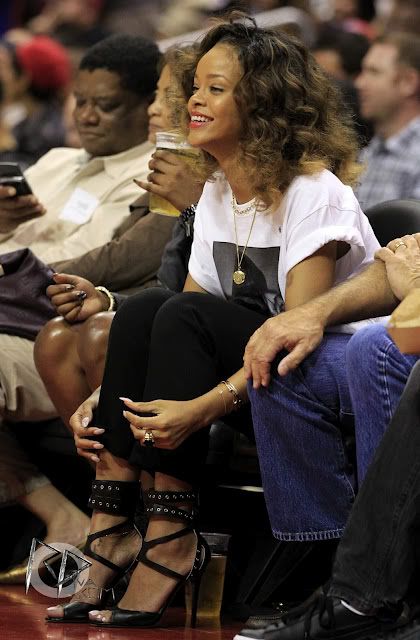 And in a NY courtroom.......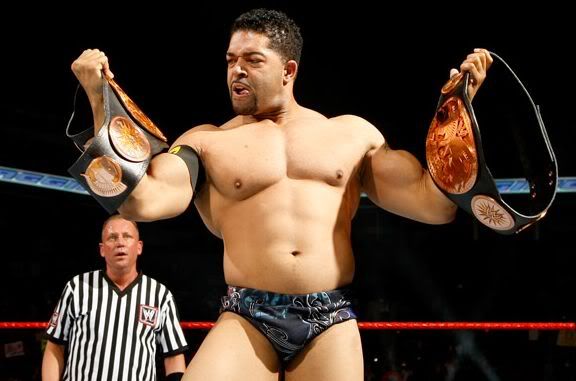 David Otunga (the Harvard-law educated baby daddy of Jennifer Hudson) made a triumphant return to the courtroom recently.  Could you imagine this dude as your lawyer after you just saw all his ish in some speedos?
Taking time out from his successful WWE gig, Harvard Law grad David was in court yesterday representing a man in a wrongful termination suit at the NY State Department of Labor. And David clearly body slammed the competition as he won the case and got his client his unemployment benefits.
David tweeted,
"Just made my return to the courtroom. Smoked a witness on cross-exam, sustained objections to other lawyer, and won the case for my client."
And showing off his cocky side, he added,
"If the outcome of the case is any indication of how I'll do in the Royal Rumble this weekend, then it looks like I'll be the winner."
SIDEBAR: He took the case pro bono.