The -ish just got real between Evelyn and Jennifer and "BBW" hasn't even started up yet!  Jen recently revealed the "very" petty reasons she and her former friend don't talk anymore and Evelyn LASHED out calling her insecure and saying she wants to be a white girl!  Deets inside.....
We revealed to you earlier that Evelyn Lozada and Jennifer Williams will indeed have a big falling out on camera this season on "BBW" and now little details about the basis of the beef as leaking out. And it's VERY childish.
So why are they beefing?  Jennifer told S2S that Evelyn is upset because she's friends with Real Housewives of Atlanta star Nene Leakes and Mashonda.
"Let me tell you what she's mad over 'cause this always comes up. She hates the fact that I'm really good friends with Nene [Leakes] and she hates the fact that me and Mashonda are good friends. I feel like it's all coming from a place of hurt, and she's turning it into anger. Why do you care who I'm friends with? Like, that's ridiculous," Jen explains. "I live in New York. You live in Miami. I don't care who you hang out with. I'm kinda over it because I just feel like I'm at a point at my life where I'm trying to get rid of negative energy. To me, I feel like it's something so minuscule. It's not like I slept with Chad. It's not something irreparable. It's something stupid that you're mad over. If you really are mad because I have other friends, I think that's completely ridiculous."
Evelyn was NOT HAPPY when she heard about this. She took to Twitter and unleashed a vicious rant (it was so bad that Chad had to jump in!).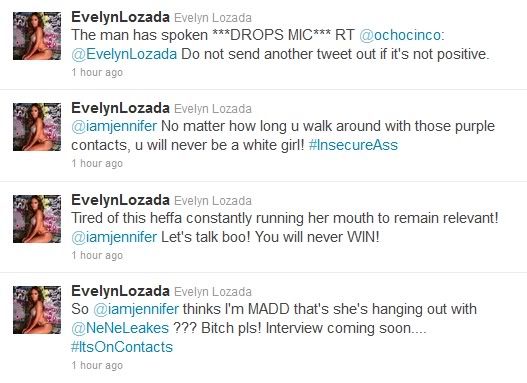 Boom!  The comment about the purple contacts had to hurt!