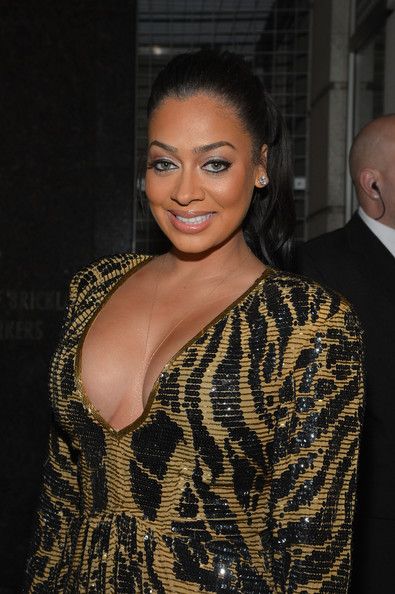 LaLa Anthony squashed rumors about her marriage being on the rocks revealing that she and Carmelo are "doing great" and that the whole "Honey Nut Cheerios" controversy was a hoax!  Find out why she's laughing about the scandal inside...
The marriage of LaLa and Carmelo Anthony has been under scrutiny for a few months since rumors of a separation spread through the streets and that whole Kevin Garnett"Honey Nut Cheerios" comment went viral.  But during a recent interview with Ear Candy on Demand, La La Anthony revealed that and Carmelo are doing good (though they've had rough patches) and that the "Honey Nut Cheerios" controversy was a hoax.
On her marriage to Carmelo:  

"We've been together for 10 years and I always say if people tell you their marriage is perfect they're lying. We've been together for ten years.  We go through ups we go through downs just like everyone else. But we're doing great and we're raising an amazing son Kiyan whose about to turn 6 in like a week. He's so sweet and such a good kid. So definitely we're working through it and things are good."

On Kevin Garnett and the "Horny Nut Cherrios" comment:

"Garnett did not say that about me.  He just said some things to my husband that he didn't like . . . It happens in the heat of battle. People don't know what goes on on that court. Garnett's known for [trash talking]. So it got under my husband's skin and things happen but it wasn't about me."

On how she laughed at the scandal:

"...To be in the middle of that whole entire thing you had to laugh. If you don't laugh that stuff will start messing with your head and making you feel upset and down so I laugh about it....I have great friends and family who are sending me pictures on Honey Nut Cheerios boxes, and we're making jokes about it."
It's good to know Carmelo and LaLa are working it out.  You can catch the couple on the new season of "LaLa's Full Court Life" on VH1, Mondays at 9/10c.
Listen to the interview here: