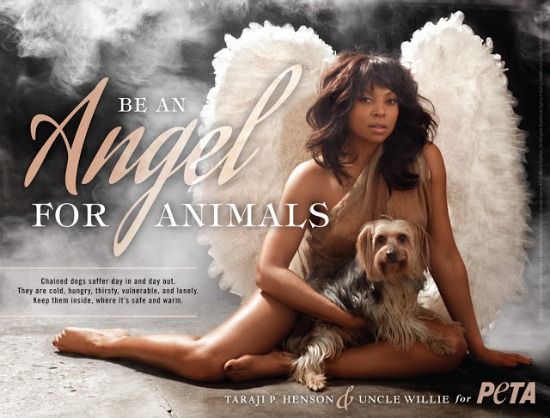 Taraji P. Henson has loaned her gorgeous face and body to PETA for her second campaign with the organization...and this one is for the dogs. Find out how Taraji wants you to bring pooches into the fold inside...
First Taraji P. Henson bared her whole body for PETA in an anti-fur campaign, and now the 42-year-old "Person of Interest" star is rocking nothing but angel wings to spread awareness about being kind to dogs.  She stars alongside her own Shih Tzu "Uncle Willie" in the visual campaign as she encourages people to bring their dogs indoors, where they will be safe and warm. 
Shot by top celebrity photographer Don Flood, the ad stresses that"chained dogs suffer day in and day out. They are cold, hungry, thirsty, vulnerable, and lonely. Keep them inside, where it's safe and warm."
In this behind-the-scenes video, Taraji shares how viewers can help dogs forced to live at the end of a chain and how PETA is helping to get a roof over their heads.
And she speaks about her pup Uncle Willie saying, "I never thought that I could be so in love with an animal until I had Willie. He's our family. … He's just the best companion. Dogs to me are like children … they're the closest thing to God. They're so pure in their love, and all they do is aim to please."
Awww!
Watch the video here: