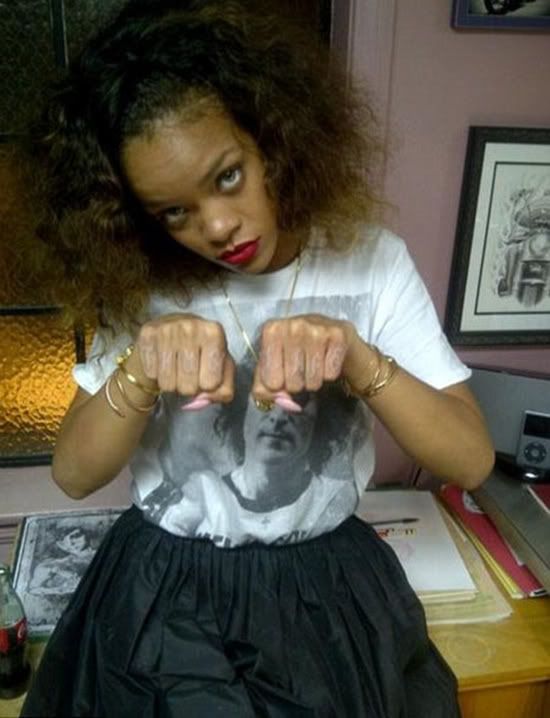 Rihanna apparently now feels the need to showcase how much of a thug she is....with a new pink Thug Life tattoo on her fingers.  Pics inside of Rih Rih getting tatted up and the interesting finished product...
Can't see this boding well with any upcoming beauty campaigns she's got in the works, but I guess that's why photoshop is everyone's bestie.
So last night in L.A., the almost 24-year-old paid tribute to rapper Tupac by getting Thug Life tattoo'd on her fists.  And tweeted Ricky Rozay's track:
"All these b****es screaming that 2pac back ♫ #THUGLIFE.'
Then:
"Tat my f***in name on u girl so I know its real!!! #MINE"
Referencing Rick Ross & Drake's song "Free Spirit" where Drake alludes to wanting to be on Tupac's level as Pac's girl Kiddada Jones got his name tattoo'd on her arm.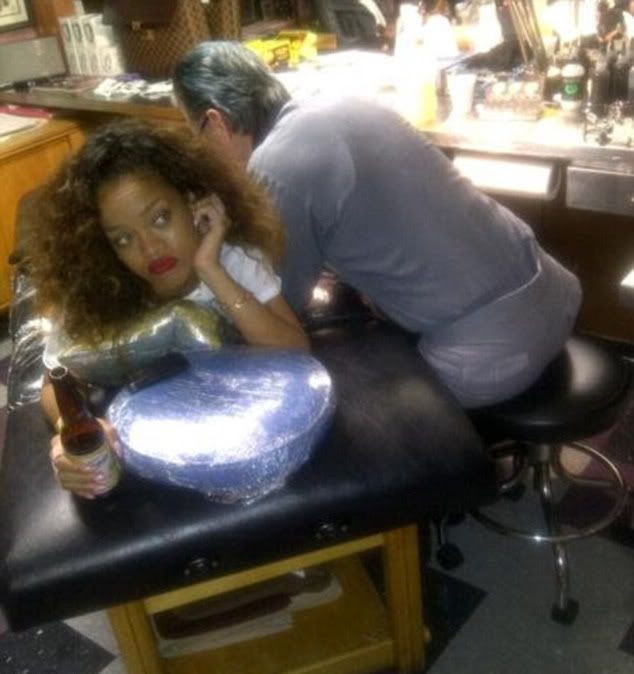 And looks like she got a second tatt last night as well as she tweeted a pic of her laid out on the table--beer in hand.  She said, "'My boo Mark Mahoney!!!! #RockstarS*** #TATnight".  Mark Mahoney is known for tatting religious icons and weapons on celebs like Britney Spears, Nicole Richie, Angelina Jolie, and others.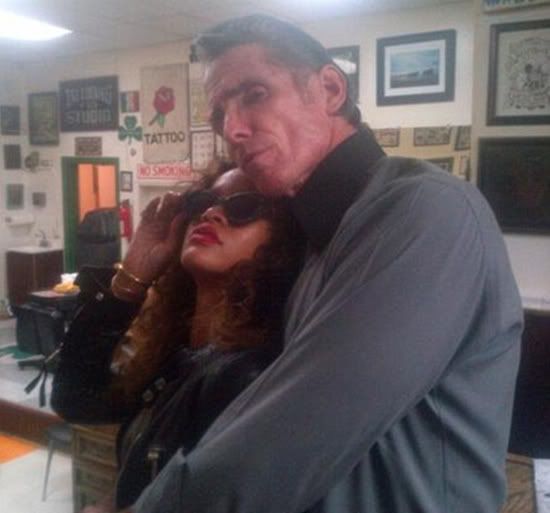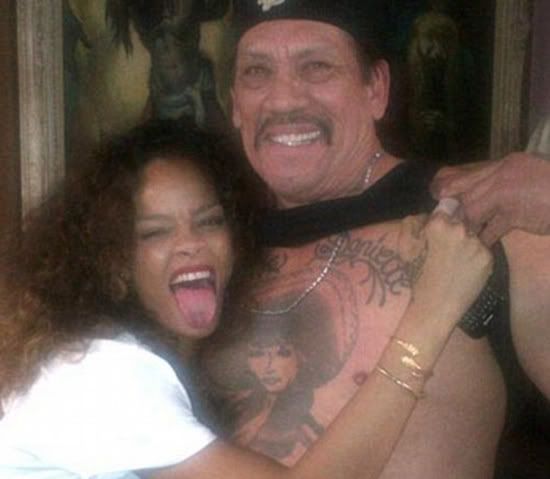 The "Cheers" singer caught up with actor Danny Trejo at the shop too. 
She supposedly already has approx. 13 visible tatts, including a music note on her ankle, a Pisces sign behind her right ear, the word 'love' on her left middle finger, "Shhh" on her right index finger, the Sanskrit Prayer on her hip, a trail of stars on the back of her neck, the French saying 'Rebelle Fleur', "Never A Failure, Always A Lesson" on her inner shoulder, a handgun on her rib, her best friend's birthdate in roman numerals on her neck/shoulder, a skull & bones with a pink hair bow on her ankle, and a few more.