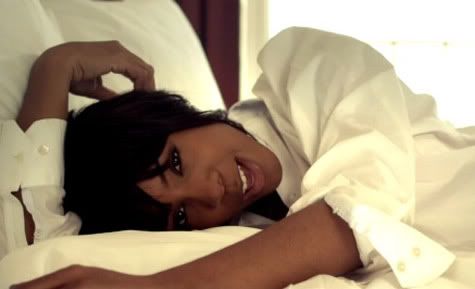 Kelly Rowland has released a sneak peek at her new "Keep It Between Us" video starring Lance Gross. Watch the snippet inside and find out about Ne-Yo's new Motown gig and see RocNation star Bridget Kelly on the cover of "Ghubar" Magazine.
Sexy actor Lance Gross plays Kelly Rowland's love interest in her latest video, "Keep It Between Us" video.  Shot in Paris, the clip shows the couple in and out of bed.....falling in love. 
She tweeted,
Check out a preview of my new video "Keep It Between Us" featuring @LanceGross as my leading man!
Watch the preview here:
And check out their steamy lip-locking pics from the set HERE.
And Ne-Yo just made a big executive decision: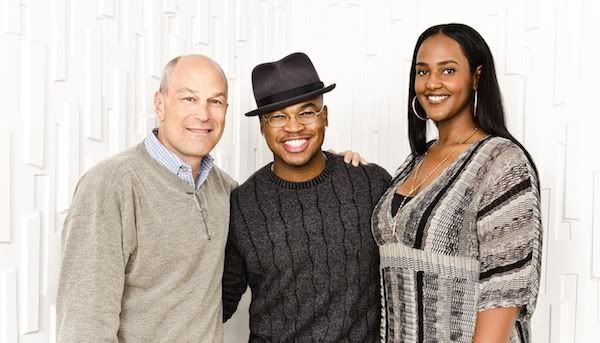 Big changes are on the way for Mr. Smith (shown above with Barry Weiss and Ethiopia Habtemariam). He just switched teams from Def Jam to Motown Records and was also named senior VP of A&R for Motown.
In his new role, Ne-Yo will serve as a producer and mentor to the label's artists. Universal Republic and Island Def Jam Motown chairman/CEO Barry Weiss said,
"His track record of success at Def Jam will always be a benchmark...But this move to Motown will provide new and inspiring challenges for Ne-Yo as both an artist and a key member of the new senior management team that is taking form at the label in 2012."
Ethiopia Habtemariam, Senior Vice President of Motown Records, said of Ne-Yo
"We are committed to discovering, developing and nurturing R&B/soul superstars here at Motown. In Ne-Yo we have both a global superstar and arguably one of the best songwriters in music. His presence on the executive team only strengthens our commitment to be the very best in R&B."
Ne-Yo added,
"I'm honored that I've been given such a prestigious title and trusted with such responsibility; terrified because I know that playing this role in the fashion of one of my career role models, Mr. Smokey Robinson — these are big shoes to fill. But trust, I can handle it."
Sure he made copping an executive title part of his new contract.  Can't be mad at that.
And on magazine racks......
RocNation artist Bridget Kelly covers the 3rd anniversary issue of online French magazine "GHUBAR."  In the photo, the "Thinking About Forever" singer is rocking fitted a Laquan Smith jacket and dress.
Sarah Diouf, Founder & Editor-in-chief, said of Bridget,
"Ghubar has grown in a way none of us were expecting. It's incredible to believe that we've been able to do
so much through this little space on the internet. Today we are partnering with Roc Nation for this issue, it's
something we would have never thought as possible when we first started."
Pretty chick...
Photo via Whalen Bryce, Styling Donald Hicks, Make Up Jeffrey Dwayne, Haistylist Neil Christian Williams