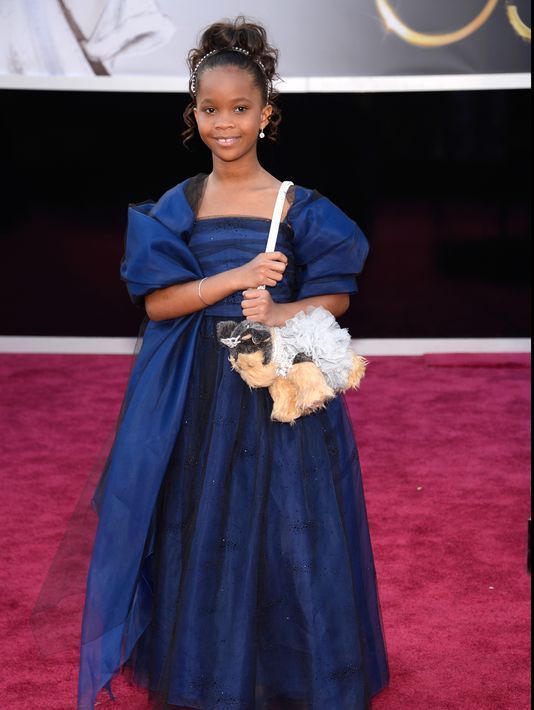 Last night, the satirical website The Onion seriously overstepped the boundaries of taste and sensibility when they described 9-year-old Academy Award nominee Quvenzhane Wallis using the "C-word." Read the outrageous tweet inside...
In what they considered to be humorous updates and tweets about the 2013 Academy Awards last night, the satirical website The Onion posted a tweet about youngest nominee in Oscar history, Quvenzhane Wallis, where they described her using the "c-word."

Of course the tweet has been deleted, but a handy screen shot shows that it was nestled among other unfunny updates.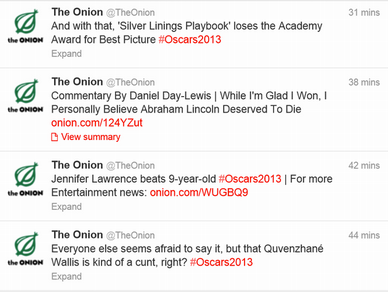 The jab at Quvenzhane did not go unnoticed as many were outraged and folks like Russell Simmons and Roland Martin immediately weighed in.  


According to the AP, the tweet was up for at least an hour before The Onion deleted it and unfortunately, the tweet was "liked" by at least 400 followers. SMH.  
Sadly, The Onion still HAS NOT addressed the tweet on any of their social media sites nor released a statement.  And we doubt they will. 
And we're not going to even discuss how little Quvenzhane had to tell an AP news reporter on the red carpet, "No, that's not my name" when the person told her they would just call her"Annie" instead (presumably because her name is "too difficult" for them to pronounce).
Are we disgusted by mainstream media attacking another young black girl, who is doing AMAZING things, publicly in the most disturbing of ways--Yes.  Are we surprised by it?  No.  We guess people are so used to seeing black women with little to no self esteem plastered all over our tv's and internet that folks forgot what confidence looked like.  Deal with it.  And do better. 
And no, we're not going to sit around and wait for a public apology....we wait for mainstream to do way to much FOR us.  Thankfully, we have our own media to uplift and praise our own. 
UPDATE: (February 25, 2013)
The Onion did finally issue an apology......after numerous media outlets jumped on the story.  Here goes:
Feb. 25, 2013

Dear Readers,

On behalf of The Onion, I offer my personal apology to Quvenzhané Wallis and the Academy of Motion Picture Arts and Sciences for the tweet that was circulated last night during the Oscars. It was crude and offensive—not to mention inconsistent with The Onion's commitment to parody and satire, however biting.

No person should be subjected to such a senseless, humorless comment masquerading as satire.

The tweet was taken down within an hour of publication. We have instituted new and tighter Twitter procedures to ensure that this kind of mistake does not occur again.

In addition, we are taking immediate steps to discipline those individuals responsible.

Miss Wallis, you are young and talented and deserve better. All of us at The Onion are deeply sorry.

Sincerely,

Steve Hannah
CEO
The Onion
Was this satisfactory?