First Lady Michelle Obama has been on a whirlwind press tour for the 3rd anniversary of her Let's Move campaign.  Check out her funny "Mom Dances" video she did with Jimmy Fallon last night, and her interviews with Robin Roberts & Dr. Oz...
Leave it to our fab First Lady to come up with something funny to add to her Let's Move campaign.  Last year, she and ate night host Jimmy Fallon had their own version of the Olympics at the White House.  And last night, they put together a video of "Mom Dances".  Complete with Jimmy dressing in his own mom clothes and Mrs. O helping him with the dances every mom knows.
She got dressed in her usual fab gear during her interview though.  Check out the dance below:
And their sit-down below where Mrs. O talked about her hair and Twitter:
And her Let's Move campaign:
Earlier yesterday, Mrs. Obama rolled to "Good Morning America" to tape an interview with Robin Roberts: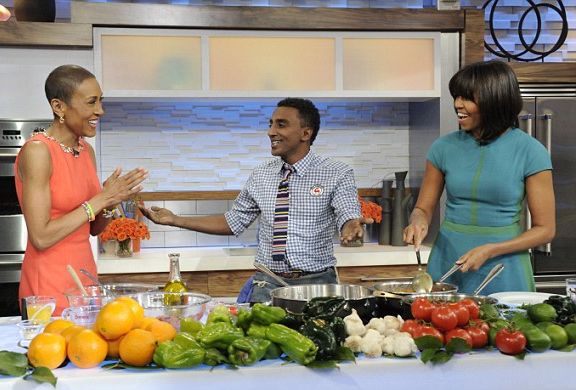 The two ladies looked gorgeous as they caught up with each others' lives, Mrs. O's fitness campaign, and cooked in the kitchen with Marcus Samuelson.  The segment will air on Tuesday.
And she even stopped by Dr. Oz's show to dance it up with kids from Terence C. Reilly #7 School in Elizabeth, New Jersey. That segment airs Thursday.
Our First Lady will also be making stops in Mississippi, Illinois and Missouri.
The Randomness:
1. The Best Man sequel has gotten an official title.  A bad one.  It's called Best Man Holiday. STORY