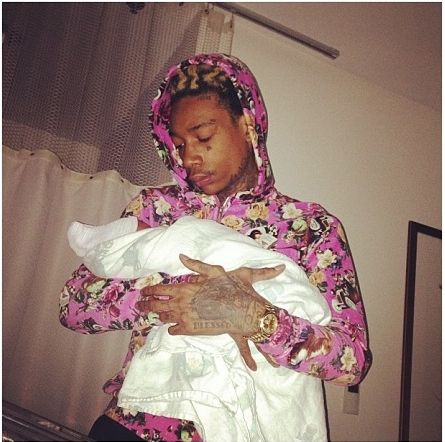 Wiz Khalifa and Amber Rose are now the proud parents of Baby Sebastian and Wiz is already updating his 9 Million+ followers with Daddy Reports.  In addition to being snapped (above) holding his baby boy for the first time. See what's going on in the world of Daddyhood for Wiz inside...... 
Wiz and Amber are basking in the afterglow of parenthood right now and the first time father seems excited about everything!  He's tweeting about his son's first day on earth, his first meal, his naps and his first poop!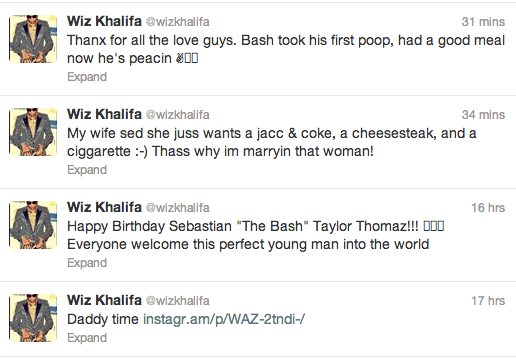 It's nice to see a man truly excited about being a father! 
And now, since the birth of Sebastian Taylor Thomaz, the tatt "BASH" which was discussed during a Power 105.1 interview last year seems to make a lot more sense.  When asked about it, he replied (at the time) "Oh, [the tattoo 'bash' is] just in case I got to bash someone in the head.   No, I'm not gonna bash people in the head. People will understand that later. I don't always explain everything."
Awww....
BONUS:
The proud parents received a cute congratulatory tweet from Rihanna:"Congratulations to my fam @mistercap and @muvarosebud !!! Welcome baby Bash! You're born in an exquisite month #babypisces"
The Randomness:
1.  An intruder was arrested at Rihanna's new Pacific Palisades home!  STORY
Pics: Instagram