It seems like some ATL drama followed K. Michelle all the way to New York City with reports that she and "LAHH ATL" co-star Mimi Faust had some type of slap-style altercation last night at B.B. King's.  Get the deets inside......
Yesterday, K. Michelle made a few promo stops through NYC, including a much talked about interview with Power 105's The Breakfast Club that we told you about. During the chat fest, K. shared a few opinions that may have come back to haunt her.  First, she went in on Mimi Faust's new man and stated that she thought he was on "the down low."  Also, she made a few jokes about the whole Lyfe Jennings concert where she went ham after finding out she was expected to open for a dude who had just gotten out of jail.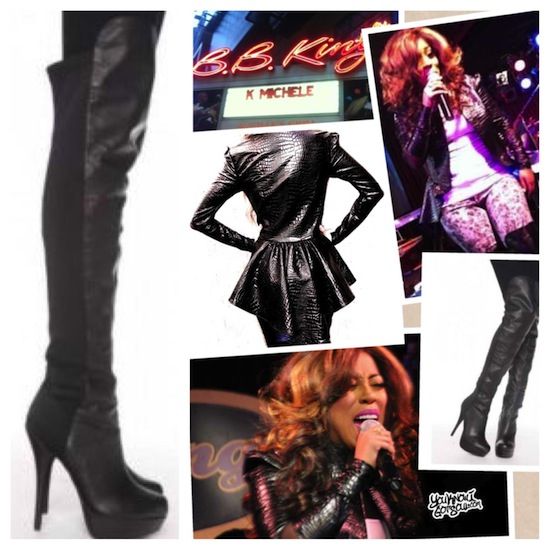 So...fast forward to Tuesday evening at NY's B.B. King's venue where K. Michelle was slated to perform.  Sources say Mimi Faust arrived to the concert with her bff Ariane Davis (they were there to "support") but ish went LEFT backstage.  Reports are saying that there was verbal altercation backstage which resulted in K. Michelle slapping Mimi in the face.
We can only imagine that hearing your "friend" dissed your man on the radio and questioned his sexuality must have made Mimi feel some kind of way.  But is that what led to the altercation?  Only time...and Mona Scott Young's camera crew...know for sure.  
Meanwhile on Twitter, Lyfe Jenning was also responding to The Breakfast Club Interview saying, 
One thing's for sure, K. Michelle's mouth keeps her in some mess.  There have also been more leaks about drama during the "LAHH ATL 2" taping, which may include more fighting with Rasheeda.  Plus, she's already revealed to NY listeners that she's cursed out most of her castmates. 
And since K. Michelle has been VERY verbal about her own anger management issues, when we hear a stories about her causing conflict, we're inclined to believe that she's at the root of them.  
But just like her fights with J.R. Smith, maybe the Mimi Faust/Lyfe Jennings drala will make for great songs on her upcoming Rebellious Soul album.  We'll be waiting....  
For her B.B. Kings performance, K. was styled by Kendrell Bowman and wore a custom made leather jacket from ButchDiva, black thigh high Louboutins and Rag & Bone jeans.