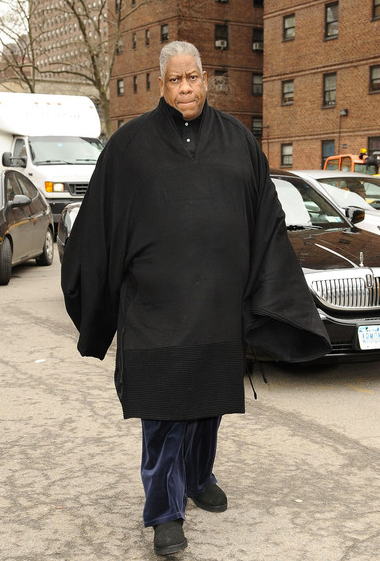 As he sets his sights on late-night television, it was reported that Andre Leon Talley had severed ties with VOGUE magazine...but he's denying that! Find out more about his next move inside and get deets on Big Sean's new fashion line....
Now that famed VOGUE Magazine contributing editor Andre Leon Talley plans to branch into late night television, it was rumored that he might be forced out of one of the most prestigious jobs in the fashion industry.
It all started when ALT signed a production deal with production company Electus, which was brokered by Marc Beckman. Marc spoke about the signing saying, "We think a television platform is an ideal showcase for André's personality to shine and bring together his amazing network of personal contacts, ranging from designers to musicians to politicians..."
That's all fine and good that ALT wants to expand HIS brand, but the folks over at Page Six reported that VOGUE and Conde Nast have no desire to watch ALT or any other editor on their mast head spread their wings.  One source said,  "The powers that be aren't huge fans of his television aspirations, and they want to sever all ties now." 
But of course this could simply be speculation and rumor since no one from Conde Nast has gone on the record to confirm ALT has left the building. In fact, Andre's rep denied the rumors and told the NY Post, "Andre is absolutely maintaining his relationship as a contributor . . . [He] has a number of projects in the works with Vogue and Condé Nast, and maintains a warm relationship with both."
Only time will tell how this will eventually play out....but do you think that ALT has what it takes to compete with comedians and late night hosts?
And in new clothing lines....
As fans wait for his anticipated sophomore album, Hall of Fame, rapper Big Sean just announced the official launch of Aura Gold, a fashion and lifestyle company.  And the first label underneath it is an ode to his debut album as it's called Finally Famous.
Featuring tees, sweatshirts and varsity jackets, Big Sean talked about the line saying, "Launching my own label is a dream come true for me. Even though I have a lot to learn about fashion and the industry, I do know what I like and the small details that make something stand out to me. I look forward to evolving the line with more colors, fabrications and offerings to show the other dimensions of my style progression over time."
The launch coincides with an appearance in at the Mandalay Bay in Las Vegas for ProjectMVMNT this week to introduce Aura Gold's fashion label "Finally Famous" and unveil the line's Fall 2013 collection named The Black Collection.
 
Congrats to Big Sean!