The Sunday Times newspaper over in the UK has deemed Rihanna as the next Princess Diana.  For a few reasons.  Check out their article inside, and speak on it....
Inside yesterday's edition of The Sunday Times, they did a feature on their next Princess Di.  And apparently, they believe the parallels between pop diva Rihanna and the people's Princess are spot on.
The publication 'shopped a pic of Rihanna and Princess Di's face together for the cover, and offered up why this comparison can be a good and a bad thing.
In an excerpt, they explain the love of paparazzi stemming from anguish:
Like Diana, Rihanna has worryingly drifted into using photo ops to send messages of allure, defiance, or revenge in a turbulent relationship with an errant partner.....Diana's anguished helplessness and isolation inside the royal family, with its stoical code of duty, led her to gravitate toward the ever-hovering paparazzi, whose global power as a media institution increased exponentially because of her popularity…
And their similar beginnings:
 Diana and Rihanna began as sensitive, wounded, but appealingly bubbly and good-natured provincial girls who slowly discovered their own photogenic virtuosity and began to conceptualize themselves as living sculpture for the lens. Both developed a false intimacy with photographers and the public and began to cannibalize themselves in their futile search for security in love. Diana, rebuffed, eventually accepted her exile. But Rihanna, in the classic syndrome of the battered woman, still pities and hopes to change and save her abuser...
Hmmm.  Rihanna ignored the possible negative side of the story and Instagrammed pics of the papers and how she came back to her hotel, drunk, and found them:
Just so happens I came home drunk to this in a pile of papers outside my hotel room! My lil Bajan behind, never thought these many people would even know my name, now it's next to Princess Diana's on the front of a newspaper! Life can be such a beautiful thing when you let it be #yourejealous :)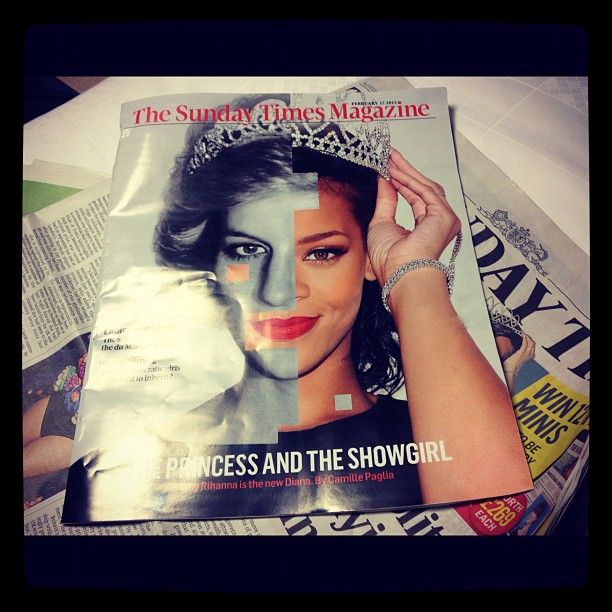 When your face is pic-stitched to Princess Diana's on the cover of The Sunday Times.... I mean... #extraordinaRIHbehavior
Speak on it....
Extras:
1.  Dr. Jerry Buss, the owner of the L.A. Lakers for more than the last three decades, has died after being hospitalized for cancer. STORY