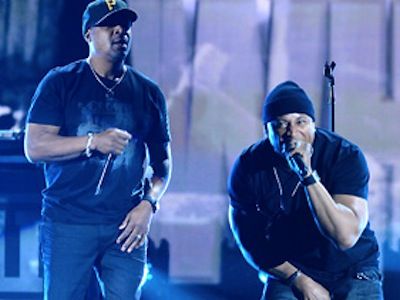 LL Cool J closed out the 2013 Grammys with a performance of his new single "Whaddup" and fan favorite "Rock The Bells" with the help of Chuck D, Travis Barker and a few other musicians. Watch the performance here...
After doing a stellar job holding down the hosting duties for the 2013 Grammys (for the second year in a row), "NCIS" star LL Cool J reminded Hollywood and the rest of the world about what made him a star in the first place....he's a great rapper.
LL was joined by cutie Blink-182 drummer Travis Barker, Public Enemy leader Chuck D, Rage Against the Machine guitarist Tom Morello and DJ Z-Trip for a set that featured his new single "Whaddup," the fan favorite "Rock The Bells," as well as interpolations of Public Enemy's "Welcome to the Terrordome" and a riff from the Beastie Boys' "No Sleep Till Brooklyn. Yep, vintage Mr. Smith.
The new song, "Whaddup" will appear on LL's upcoming album Authentic (due this May).
Watch the performance inside: