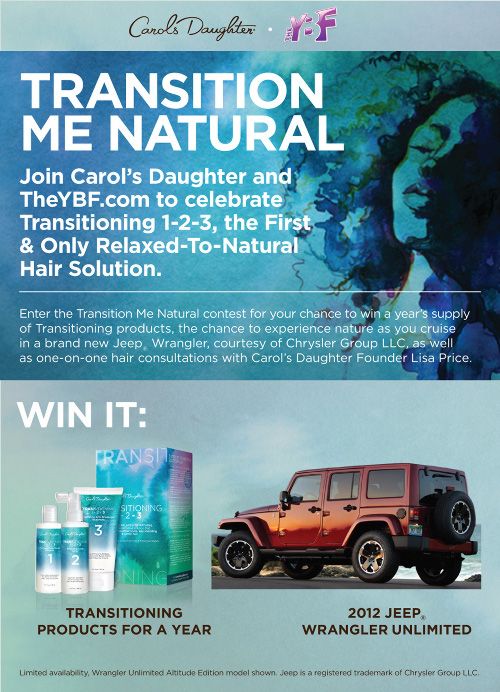 With an overwhelming 10,000+ entries (hence our delay in narrowing the list down to ONE grand prize winner!), TheYBF.com, Carol's Daughter & JEEP are proud to announce our winner of the TRANSITION ME NATURAL contest!
Meet our winner inside..
Congrats to YBF reader AAMIRA GARBA of Plainfield, New Jersey!
Aamira is a self-proclaimed YBF stan....and her natural hair transition story moved all of us at YBF, Carol's Daughter and JEEP.  The 26-year-old mother of two juggles two kids, a husband, and is making her way through corporate America where she rocks her beautifully natural hair PROUDLY. 
She's now the winner of a year's worth of Carol's Daughter Transitioning 1-2-3 products.  And a 2012 JEEP WRANGLER UNLIMITED!
Check out Aamira's contest entry below that inspired us all:
I first went natural 2 1/2 years ago after the birth of my 1st daughter.  A very common symptom post-pregnancy is hair loss, and boy did I lose hair in clumps! So, rather than continue to watch my hair slowly drift away, I decided to go drastic and just cut it off. So, I started with a TWA (teeny weeny afro), colored it a beautiful honey blonde, and rocked out!

My husband LOVED it, my friends LOVED it, and it took some time for me to get used to it but eventually I LOVED it too! Going natural has reminded me just how versatile we women of color are, especially when it comes to our hair. I am an executive in corporate America and I'm known for being fearless when it comes to changing my hair. It always remains professional but the length, color, or texture can change at any given moment. It's 2012 and I still get the "Is that your hair?" "Did your hair grow?" "Can I touch it?" questions. Sad, but true.  It's as if other cultures don't understand the concept that we can change our look and it's ok! The versatility of my hair is a benefit of being African American!! Don't be alarmed by the change! Embrace it! No one can do it like us!
CONGRATS AAMIRA!!
And a huge THANK YOU to all 10,000+ YBF, Carol's Daughter & JEEP fans who entered our most MAJOR contest to date.  Stay Fab!