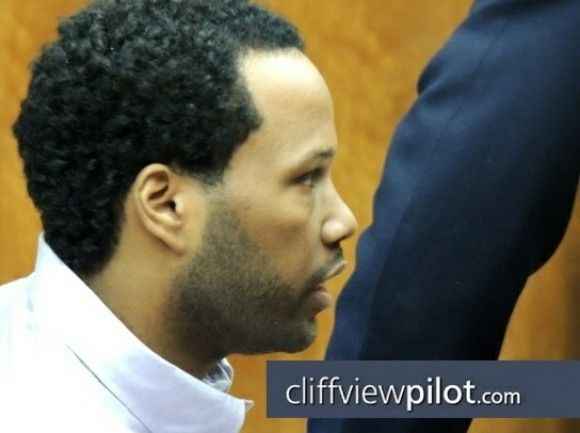 As previously reported, "LAHH" star Yandy Smith's baby's daddy Mendeecees Harris is on trial for allegedly having sex with a 15-year-old girl when he was more than four years older than her.  The newest testimony at the statutory rape trial has revealed some shocking details.
Get them inside....
Mendeecees (pictured above in court yesterday) has formally been charged with seven counts of child abuse in connection with a sexual relationship he allegedly had with a 15-year-old girl four years ago.  He's also charged with promoting prostitution.  And by the way, the news outlet CliffViewPilot.com--who was inside the Hackensack, NJ courtroom yesterday--reports that Yandy showed up to the trial with an entourage following her every move and with her face covered with a coat the entire time.  
Then the case turned into a scene ripped straight from the movie Precious.
The now 19-year-old woman claims she went to stay at Mendeecees' Lodi, NJ home several times (that his GIRLFRIEND lived at as well) due to friction with her mother at home.  She said he was always there for her, "made her feel comfortable" and listened to her vent about her problems with her mother. 
She said he soon began to ask her for sexual favors, and did so even more when she asked him for money. And he even supposedly bribed her with a secret he learned from her mother about her being raped by someone else when she was 8-years-old.
The CliffViewPilot.com reports:
"Mendeecees made me feel comfortable. He would give me advice. He'd say 'It'll be okay between you and your mom'," the woman said.

Then came an afternoon when, with no one else home, she realized in the shower that she didn't have a towel.

"I asked him to get me one, and he did," the woman testified. "Then he came into my room and suggested I let him masturbate on me, but I just laughed."

The suggestions continued, she said, until she relented. She said Harris then gave her $15 or $20 "for lunch or maybe a ball game."

But that wasn't enough for him, the woman testified: Using an extremely private piece of information, he coerced her into providing oral sex.

"He told me he knew I had been raped when I was 8 years old," she said, "and he found out from my mother.

" 'Your mom doesn't want you here'," the woman said Harris told her before exposing himself.

She said she complied with his desire out of spite "to get back at my mom."

"I felt betrayed by her," she said. "I didn't tell her about [the rape] until I was 14, and it was something I didn't want anyone to know."

Similar favors were demanded – and provided — for "$15 or $20" when she needed money for expenses, the woman testified. Eventually Harris enlisted her younger brothers by suggesting, when they asked him for money, to "talk to your sister. She knows what she has to do."
Why did she finally fess up?  Because Mendeecees also dated the victim's mother at some point....and they supposedly had planned on getting married! 
The victim also said at one point, he told her that sexually she "was better than her mother".  Gross.
Mendeecees and the victim's sexual relationship ended though, she said, when her mother took her phone for missing curfew, and she found a message from Mendeecees.  A fight ensued between him and the mother....and ish hit the fan.  The mother also ordered the victim to leave the house:
"My mom didn't know where I was," [the victim] testified, "but Mendeecees did."

The next day he came to find her, she said. He told her that her mother had packed her belongings – and then asked her: "Please don't tell her anything about us," the woman said.

"He said she didn't know anything, so don't say anything. It was something he would 'take to his grave.' He [also] told me they were done.

"I felt horrible," the woman said. "At one point Mendeecees and my mother were going to get married. I felt it was all my fault."
She also said that when she saw him on TV as Yandy's baby's daddy, she knew nothing about Yandy.  But apparently, he was with Yandy at the same time as his live-in girlfriend.
Mendeecees claims the victim is lying about everything.  He denies ever having sexual relations with her, ever blackmailing her, and says she simply wants money because he's a TV star.  And he believes that since the woman now lives in the south (and claims she had to drop out of nursing school to attend this trial), she is doing everything she can to stay in New Jersey.
Triple sigh.
If convicted of the charges, Mendeecees would face up to 20 years in prison.  He's already turned down the 5-year prison stint offered to him before the trial.  We'll keep you posted on developments....and hopefully where this dude got his name from...
STORY EDIT: Mandeecees was not 19 years old at the time of the alleged incident(s).  He was more than four years older than the then-15-year-old woman, which legally qualifies as  statutory rape in the state of New Jersey.
BONUS: On a recent episode of "Love & Hip Hop," Yandy did a bit of a strip tease performance for Mandeecees on his birthday.  She now wants the whole world to see.  For some reason.  Check it out in full below: