Chris Brown was seen arriving at an LA courthouse earlier today for a hearing about forged community service documents.  Bringing his mother, Joyce Hawkins, and his girl Rihanna along for the hearing, Chris faced allegations that he may have violated his parole.  Find out what happened inside.......
After the DA filed a suit alleging that singer Chris Brown had forged documents about completing his community service stemming from his 2009 assault on Rihanna, the "Turn Up The Music" crooner showed up in his Suit & Tie, with Rih Rih herself in a Christopher Kane Resort 2013 button down, to face the music today.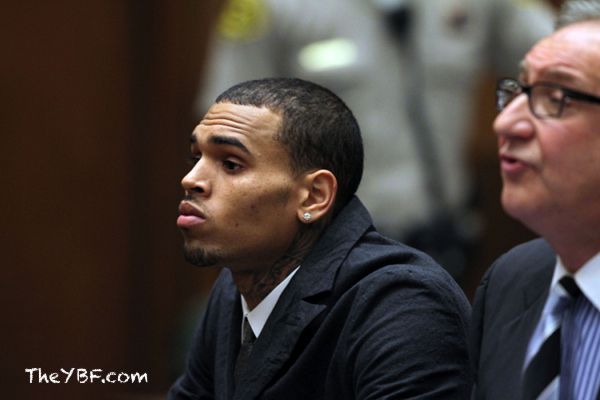 We told you previously that the DA is pretty pissed about the documentation Chris filed regarding the 180 hours of community service he was supposed to complete (saying it's full of lies), so the DA presented his findings to the judge with Chris looking on (above).
TMZ reports that inside the courtroom, Rihanna (who also brought along her bestie Melissa) sat right behind Chris as the judge told the court that he needed more time to review the findings.  He then ordered Chris to discuss the allegations with his probation officer within 48 hours and he'll render a decision on April 5.
Witnesses say Chris and Rihanna left the courtroom arm-in-arm and Rihanna was seen blowing kisses and trying to make Chris smile.  Apparently it worked as Chris was driven away in an SUV...smiling. 
By the way, the twosome spent the entire night together last night, "working" in the studio, and driving home together very late last night. 
Photos via INF/SPlash