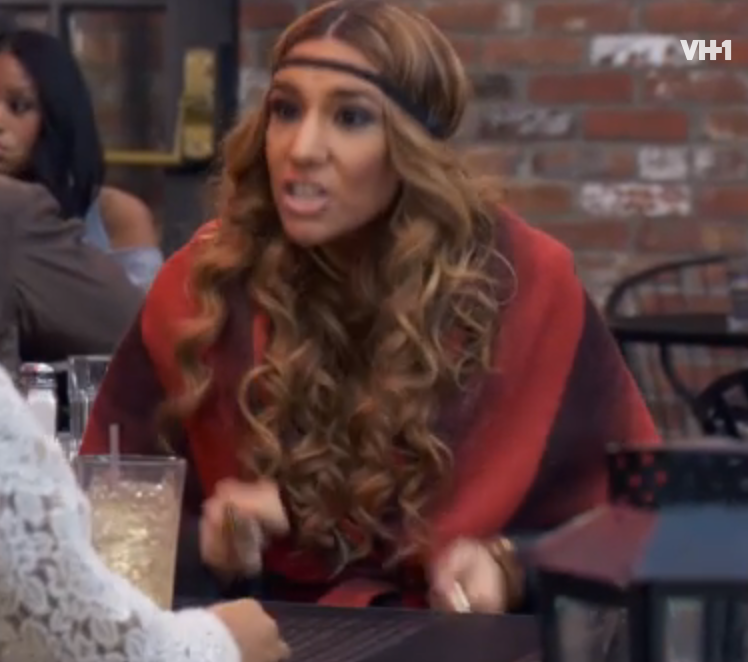 "LAHH 3" stars Jen the Pen and Consequence took to Twitter to defend a hot button comment she made on last night's "LAHH 3" episode during a fight with Raqi Thunda.  Watch the fight and see the tweets inside....
Following a heated confrontation between Raqi Thunda and Jen The Pen on last night's "LAHH 3" episode, Jen and her baby daddy Consequence took to Twitter to defend comments she made which most folks are going to label racist. 
A little back story....Jen the Pen and Raqi had one of those staged "LAHH" luncheons in the middle of NYC where they fought about a scene that aired earlier in the show.  Jen was upset about how Raqi handled their radio show audition and Jen stormed off after realizing she and Raqi couldn't work together.
Knowing she could get more screen time if the fight continued, Raqi followed Jen to her VH1-funded town car and continued with their argument.  After some heavy editing (you can tell by the "jumps" in the conversation) Raqi seemed to call Jen "entitled" (but we never hear this part) and says "Have fun trying to get hot." Then Jen responds with, "I'm white, honey it will get done."  
The viewer was obviously not allowed to see a very large part of this fight but the whole "I'm white" thing was enough to set Raqi off (during her confessional) and it's definitely the kind of water-cooler speak that Mona-Scott Young lives for.  Also, Raqi seemed to make a comment about Jen getting black "d*ck" and called her an "entitled honkie" while Jen ended by saying "I'll get on with my whiteness."
Clearly....BOTH ladies played the race card and threw insults at each other, but we guess it will come down to who the public likes the most in terms of who won this one. 
Jen and Consequence immediately hopped online to defend Jen's side of the argument.
Maybe it's just me...but I don't see the difference.  Just because you only said the racist ass comment when you were heated doesn't make it OK.   What part of the game is this?  I really wish people would at least lie better.
Then Jen, shared her own thoughts by reminding folks that her man is black and so is her son.  Because that always matters and means it's impossible for her to be racist.
She put on Instagram, "This is what my family is made of, if my comments affected anyone I apologize" 
And she tweeted...

Most people don't bat an eyelash when someone who is Black or Latino makes a comment about their race so should Jen be allowed to invoke her whiteness?  Or should does she actually harbor some racist thoughts despite having a black man who sponsors her life?
To be honest, after the first episode--as that's all I could stomach--Jen came off as an extremely entitled person. For what reason?  Who knows.  But I have a few ideas.
Watch the confrontation here:
BONUS:
Frank Ocean, Chris Brown and others should take note and watch two grown men have a conversation. Looking at the body language of both Consequence and Joe Budden, it's very clear that there is a some animosity between them, but instead of taking it to the streets for 5 minutes, the two talked out their differences.
Apparently the two had been at odds about comments that were made during interviews that went viral. But during the confrontation captured by Hot 97, both rappers were able to agree that if that there was a misunderstanding and if anything every arises, they will talk to each other first and not "get gassed up" while talking to other people.