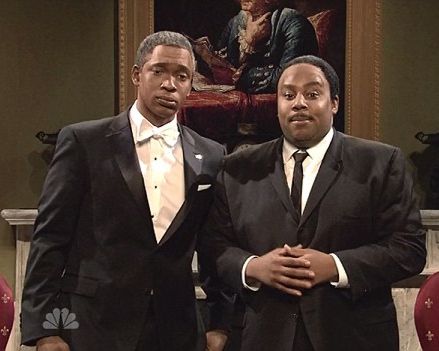 The Presidential Inauguration was not off limits for the "SNL" cast Saturday night.  Check out their spoof featuring a convo between President Obama and MLK about Beyonce, Michelle Obama's bangs and more.  Plus, rapper Kendrick Lamar's three features on the show...
Ha! Jay Pharoh played President Barack Obama while Kenan Thompson played Martin Luther King, Jr. in a skit about what went down at the White House right after Inauguration.  Check out the fellas' convo in the opening scene above.
Musical guest Kendrick Lamar teamed up with host Adam Levine and SNL's "Lonely Island" group to do a sing called "Yolo."  Check it.
And the talented Kendrick hit the stage twice to perform his two singles "Swimming Pools (Drank)" and "Poetic Justice":
Nice.