Singer Toni Braxton stars in the upcoming Lifetime movie "Twist Of Faith." See pics from the film inside and watch the first full trailer from the Mary J. Blige& Angela Bassett film "Betty & Coretta."  Also, watch a trailer for Cissy Houston's sit-down with Oprah Winfrey.
As part of Lifetime's celebration of Black History Month, singer & "Braxton Family Values" star Toni Braxton stars in the original movie "Twist of Fate" with Mykelti Williamson, David Julian Hirsh and her real-life son Diezel.  Love seeing her doing things again in a non-reality capacity.  Here's a synopsis:
Jacob Fisher (Hirsh), an Orthodox Jewish Cantor and amateur songwriter who resides in Brooklyn, New York, witnesses the senseless murder of his wife and three children. Catatonic, Jacob walks out on his Jewish mourning ritual, leaving behind his Jewish garments, wallet and keys. Abandoning his identity, he wanders aimlessly, hoping somehow to understand his tragedy. Fortuitously, he lands in Brent, Alabama (population 2,500), where he is embraced by Nina (Braxton), a single mother and the lead singer of a small gospel choir (an unlikely finalist in the competition to determine the best gospel choir in Alabama), her Uncle Moe (Williamson) and their gospel community who help his return to life while music brings Nina and Jacob together as they try to make sense of his past and their possible future.
Check out a few pics of Toni and Diezel in their roles below: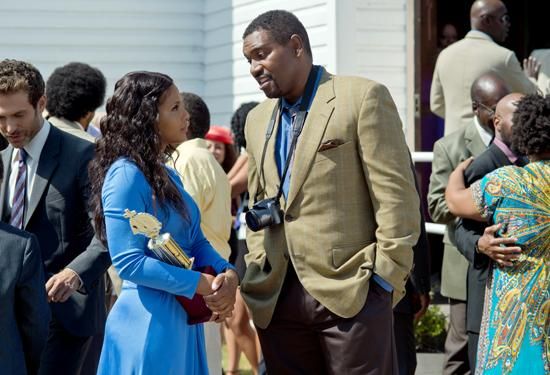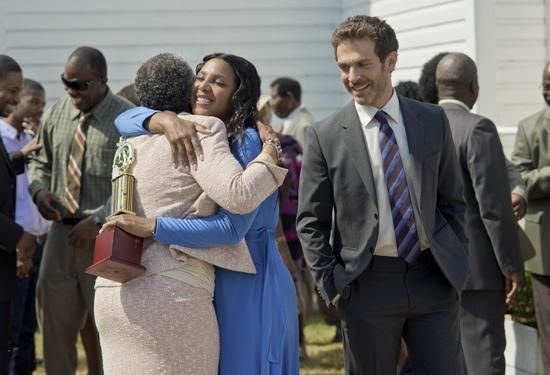 "Twist of Fate" will premiere on Saturday, February 9, at 8pm ET/PT.
And kicking off Black History Month on Lifetime:
We've already shared photos from BTS of the Lifetime original movie "Betty & Coretta" starring Mary J. Blige and Angela Bassett and now, the channel has released a full trailer for the film which debuts Saturday, February 2 at 8/7c.  The movie follows Mary and Angela in the roles of Dr. Betty Shabazz and Coretta Scott King as they continue their lives as single mothers, after their husbands (Malcolm X and Martin Luther King Jr.) were assassinated.
And.....
The Randomness:
1.  "The Best Man" cast is reuniting for a sequel.  Story.