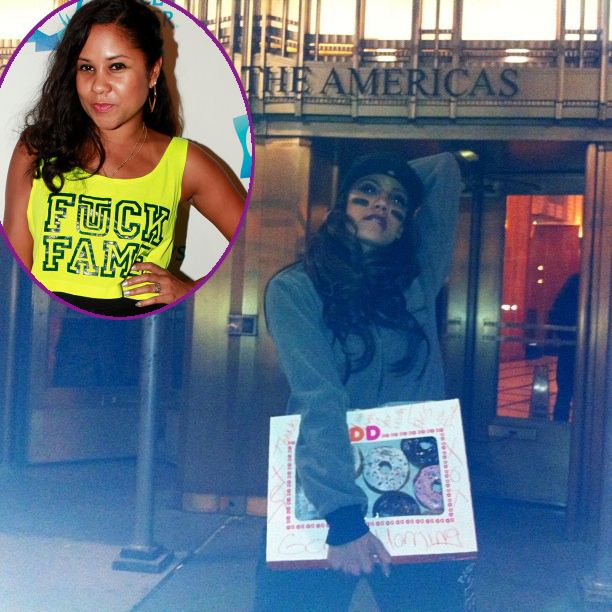 There's been foolish twitter beef this week between "Love & Hip Hop " Season 3 star Erica Mena and Power 105.1 radio host Angela Yee, all stemming from Angela doing her job and asking fans what they thought abut Erica's new record.  Now, Erica's taken Twitter to the streets and went up to Yee's JOB this morning to threaten her in person.
Check out what Angela Yee exclusively tells TheYBF.com about the incident...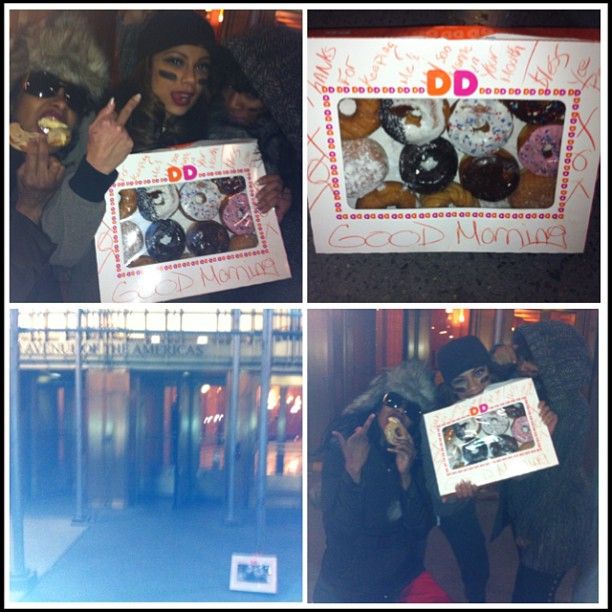 The reality chick, model and wanna be singer Erica Mena decided to post up up outside the Power 105.1 headquarters in NYC while Angela did her morning show duties.  Aside from the fact it is ARCTIC cold in NYC right now, especially at 6AM, Erica brought Angela some doughnuts...wrapped in insults.
Erica posted the above pics showing herself decked out in football facepaint and sweats (and we wonder why she wasn't this prepared when she tried to fight Kimbella last season).  And she issued a few threats and insulted Ange's business deal with Belvedere Vodka:
E Money feeds the hungry! Your breakfast is waiting @angelayee ! #SponseredByCiroc Fuck Belvey Lmfao
@angelayee is real hungry in the Am's. Talking about me & My SON so I decided to come bring her some breakfast today!!
Apparently, Erica is harboring some anger about Angela asking, during the Twitter beef, how a person like Erica has a son in this world.
So we spoke to Angela this morning right after the incident, and it sounds like Erica was possibly all talk. Yee tells TheYBF.com she doesn't even know Erica, and Erica definitely didn't say anything when Angela walked past her this morning :
I hope she gets the help she needs. I walked past her and company this morning into my building, and didn't even pay any attention to the cab sitting out front. She didn't say anything to me, and I didn't even realize it was her until she posted pictures on Instagram holding doughnuts and wearing football makeup.
Womp. 
Erica's still talking on Twitter saying:
Dam This chick that shook she just ask power 105 to ban all #LoveandHiphop cast from the building! Smh think before you talk about some1 kid
Smh I was being nice too, I just brought the bitch some donuts ! Lmfao
We're going up to people's jobs at 6am now over Twitter beef?  Foolywang material.