Video footage of Rich Dollaz being arrested for failing to make a court appearance has been released and we have it for you inside. See the video and get the latest on the Twitter war between Chaundrea Nicolle, Rich's girlfriend Erica Mena and radio personality Angela Yee...
We told you earlier about Rich Dollaz being arrested for failing to appear in family court (he had been avoiding a paternity test) and now footage of the arrest has been leaked.
The video shows the cocky "LAHH 3" reality star being arrested right in the middle of an interview.  It's interesting to note that he introduced himself as "the manager who needed a manager" and "politely" checked his interviewer for asking questions about Olivia and Erica Mena BEFORE talking about him and his projects.
Rich, who seemed to be "hiding" during the chat, mentioned to the interviewer that seeing cops "made him nervous" and he looked very uncomfortable when the cops walked towards them.  Though he was asked to identify himself and produce ID, it's pretty obvious that Rich already knew what the cops were there for.  Cameras are indeed still rolling for LAHH so hopefully they caught this ish as well.
It gets even better when Chaundrea (the alleged baby mama) greets Rich Dollaz at the door (after he is handcuffed) and yells at him for sneaking into Memphis and not handling his business with regards to their paternity suit.  SOMEBODY SHOP THIS TAPE TO THAT TRISHA GOODARD STAT!
Watch the arrest video here:
Now that you've been updated on the arrest....
Rich's girlfriend Erica Mena has been battling with our Power 105.1 Breakfast Club homie Angela Yee.  Recently, Angela commented on Erica's new single "Fantasy" on Twitter asking her followers, "What y'all think of Erica Mena singing?" As you can imagine, ALL of the responses were pretty negative. Erica shot back at Angela saying,
"This cabbage patch slore bag loves talking about me so when I run into let's see if she can still say all this to my face.  You need to really be asking what people are going to think when I slap the blood out your face @angelayee."
While many of Angela followers responded in support of Angela and commented on Erica's "lifestyle" which may or may not include bad parenting and alleged drug use, Angela tweeted,  "So sad that this person has a child somewhere in the world…"  We're pretty sure Erica is scared that Angela could drop that dime we ALL know about--Erica allegedly cheating with Ange's very married co-host DJ Envy.

Now here's where it REALLY gets rachet. We told you that Chaundrea Nicole REALLY took issue with Erica laying up with Rich (a man who doesn't honor his responsibility as a father) and what message that puts out to their daughter. 
On the Twitter side of this, Erica never addresses Rich's alleged paternity but instead focuses on how Chaundrea drives a broken down truck and has nappy hair. 
And to make it even worse, there are rumors going around that Rich has hired a "Crackhead" to follow Chaundrea around and take photos of her.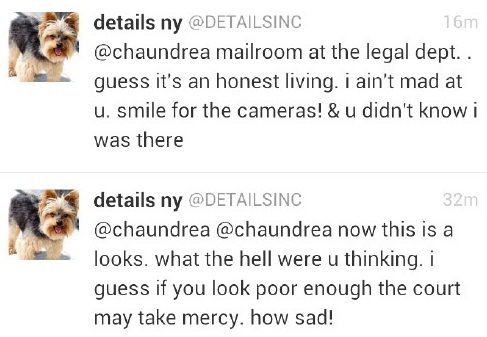 The women these men choose....
Chaundrea shot back with a few tweets of her own that seemed to threaten legal action....
The real loser in this mess is Chaundrea's teenage daughter who is watching all this play out in public (and we're sure her friends are watching it too).  Really wish people would stop playing out custody issues and catfights on Twitter.  But then again, how would we ever find out how truly ratchet these fools are?
SMH.