While her man Juelz Santana is in lock up at the time, Kimbella reveals a big secret on the upcoming "Love & Hip Hop" finale.  Spoiler and video of her reveal inside...
The girl involved in the most fights this season of VH1's "Love & Hip Hop," Kimbella Vanderhee, reveals on Monday's season finale that she and Juelz are having another baby.  Her oldest is third grader Leandro, and youngest is her baby with Juelz, who is a little over a year old.
Rumors on the net had everyone in the cast pregnant at some point this season--but it seems as though the baby ticket holder is actually Kimbella.
Kim told her parents, who came up from Miami for a visit, that this was the longest time Juelz had been in custody (he was arrested in November on suspicion of making terrorist threats and disorderly conduct)--and he's now out on $46K bail.  So she was "just making it" but seemed very happy about her pregnancy news.
She partied at Club Perfections in Queens with castmates Olivia and Yandy earlier this week and tweeted this pic before going out: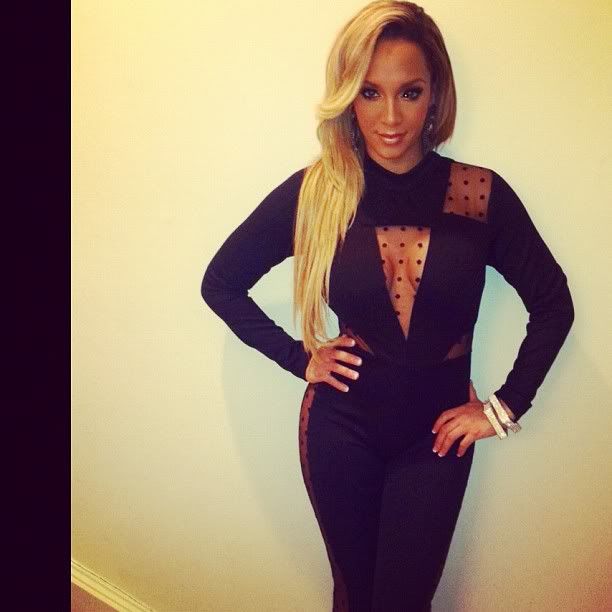 No obvious baby belly yet, but if this was filmed back in November, she's only 2 months. Or possibly another explanation?  Here's the video clip from Monday's upcoming episode where Kimbella spills the beans about expecting another child, with her 2 sons there as well:
Also in the season finale, Chrissy, Jim and Mama Jones head to Jamaica for some fun in the sun. Yandy attempts to move past her problems, but will she ever resolve her differences with Jim and Chrissy? And for Somaya "Boss" Reece, she is headed back to Los Angeles with a new investor and a new look, but, does she have what it takes to really be a "Boss?"
Kimbella is booked to party in the Bronx this weekend amongst other places.  Interesting...