Unfortunately for Ice-T, one of Coco Austin's fans posted a pic of her in an uncompromising position and it had her feeling some kind of way.  Find out what she said to the fan while trying to save her image inside....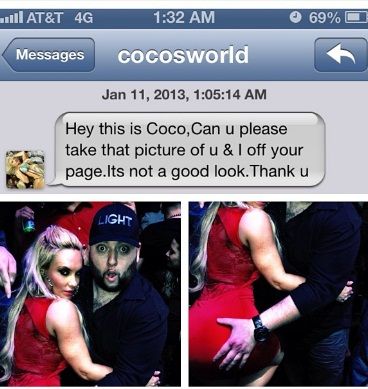 Coco Austin is famous for her suggestive pics, but the recent release of a few shots of her in a suggestive pose with another man is poking holes in the brand that she and Ice-T have created on "Ice Loves Coco."
We've already heard that Coco denies hooking up with rapperA-9, but the plot thickens.  It turns out that A-9 is friends with a man named Moose Diesel, who's the former manager of ARIA Resort & Casino's Haze Nightclub. A-9 claims he invited Coco and a few of her Peep Show pals and reality tv crew members out to party at the club and the pair later hooked up. But that's the OLD news.
What we didn't know was that Coco was very camera friendly that night...and it's come back to bite her in the ass.  Literally. 
During that night, Moose Diesel took a few pics with Coco...that she clearly posed for. And she was fine with the pics until he uploaded them on Instagram. Coupled with the recent "A-9" scandal, it wasn't a good look for Coco so she reached out to him and asked him to take it down. He responded,
"It's not a good look for you, not me . You knew what you were doing when you took the pic."
Though Ice-T is standing by Coco, these pics have to be a little embarrassing. Especially for a former pimp. We bet Superfly or The Mack wouldn't put up with that ish.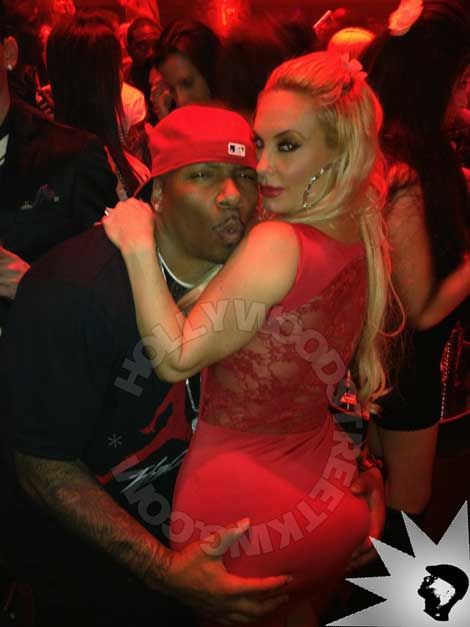 And if that wasn't enough, now A-9 is talking about his night with Coco (pictured above grabbing her ass at the club supposedly recently) to HSK saying,
"I took Coco out on a date to Haze nightclub. She brought some friends…some of the crew from Ice Loves Coco even showed up too!

We had a steamy one night stand. I hate being called a liar…cuz I'm not."
Word on the street is that there are a few steamy Coco pics floating around from that night and A-9 has taken a lie-detector test.  And it could all be yours for the right price.....
The Randomness:
1.  Robin Roberts announces plans to return to "GMA" in a few weeks.  Story.