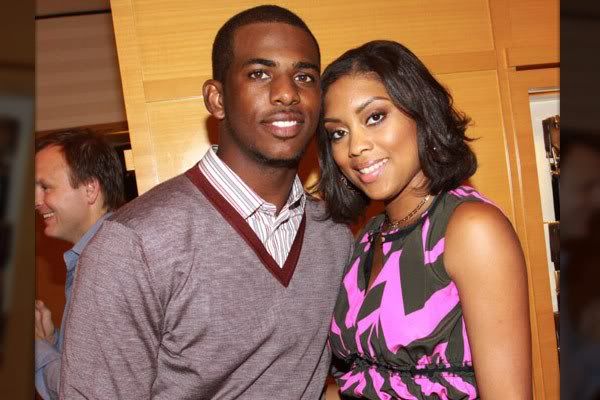 The newest Clippers star is off to a mighty good start with his Hollywood life.  Baller Chris Paul and his new wife Jada just copped an $8.5 million pad...fit for an L.A. NBA bigshot going straight for Kobe's throne.
Pics of the twosome's new home inside...
The 26-year-old new star of L.A. just made a splash in the real estate market.  After picking up and quickly moving from New Orleans to Cali, Chris and Jada reportedly fell in love with singer Avril Lavigne's mansion. 
The young divorcee' (who is now dating Kim K.'s stepbrother Brody Jenner) listed the ritzy Bel Air Crest home at $9.5 million.  But the Pauls took advantage of the buyers market and got it for $8.5 millie instead.
The palatial home is 12,184 sqft...perfect for their 2 and a half year old son Chris, Jr. to run like crazy in.  It's got 8 bedroms, 10.5 bathrooms, 10 car garage, gym, sauna, and outdoor living room. 
And this may just be the first of his laid out pads Mr. Paul will cop--he's got a $68 million contract burning his pockets.  Not mad at all...
Click the pics to check out their new pad:
If the home looks familiar, that's because it's the same mansion rocker Travis Barker and then-wife Shanna Moakler owned and lived in during their MTV reality show "Meet The Barkers."